Season
Episodes
Originally aired
First aired
Last aired
1
30
September 2, 1996
December 31, 1996
2
20
May 6, 1997
September 23, 1997
3
15
August 24, 1998
November 30, 1998
4
10
February 1, 1999
April 5, 1999
5
10
April 3, 2000
June 5, 2000
6
10
September 24, 2001
November 26, 2001
7
10
September 30, 2002
December 2, 2002
8
10
September 15, 2003
November 17, 2003
9
10
December 27, 2004
March 21, 2005
10
10
May 15, 2006
May 26, 2006
11
10
June 25, 2007
August 27, 2007
12
10
April 28, 2008
October 27, 2008
13
10
February 23, 2009
April 27, 2009
14
10
September 6, 2010
November 8, 2010
15
10
June 6, 2011
August 8, 2011
16
10
May 7, 2012
July 9, 2012
17
10
January 7, 2013
March 11, 2013
18
10
May 26, 2014
July 28, 2014
19
10
April 27, 2015
June 29, 2015
20
7
October 10, 2016
November 21, 2016
21
7
June 15, 2017
June 26, 2017
Episodes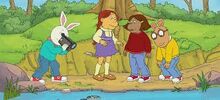 Season 1 (1996)
Main article: Arthur (season 1)
No.


overall

No. in


season

Title
Written by
Storyboarded by
Original air date
1
1
"Arthur's Eyes / Francine's Bad Hair Day"
Joe Fallon


Kathy Waugh

Gerry Capelle


Sarô

October 7, 1996
2
2
"Arthur and the Real Mr. Ratburn / Arthur's Spelling Trubble"
Joe Fallon
John Pagan & Norm Roen


Jean Lajeunesse

October 8, 1996
3
3
"D.W. All Wet / Buster's Dino Dilemma"
Kathy Waugh


Matt Steinglass

Sylvain Proteau


Raymond Lebrun

October 9, 1996
4
4
"D.W.'s Imaginary Friend / Arthur's Lost Library Book"
Ken Scarborough


Joe Fallon

Sylvain Proteau


Jean Lajeunesse

October 10, 1996
5
5
"Arthur's Pet Business / D.W. the Copycat"
Joe Fallon
Jean Lajeunesse


Stéfanie Gignac

October 11, 1996
6
6
"Locked in the Library! / Arthur Accused!"
Kathy Waugh


James Greenberg

John Flagg


Sarô

October 14, 1996
7
7
"Arthur Goes to Camp / Buster Makes the Grade"
Rowby Goren


Peter Hirsch

Sylvain Proteau


Nadja Cozic

October 15, 1996
8
8
"Arthur's New Puppy / Arthur Bounces Back"
Joe Fallon


Tom Hertz

Hana Kukal


John Flagg

October 16, 1996
9
9
"Arthur Babysits / Arthur's Cousin Catastrophe"
Joe Fallon


Terence Taylor

Gerry Capelle


Jean Charles Fink

October 17, 1996
10
10
"Arthur's Birthday / Francine Frensky, Superstar"
Joe Fallon
Stéfanie Gignac


Darren Brereton

October 18, 1996
11
11
"Arthur's Baby / D.W.'s Baby"
Joe Fallon
Gerry Capelle
October 21, 1996
12
12
"Arthur Writes a Story / Arthur's Lost Dog"
Joe Fallon
Gerry Capelle


Sylvian Proteau

October 22, 1996
13
13
"So Long, Spanky / Buster's New Friend"
Peter Hirsch


Matt Steinglass

Jean Lajeunesse
October 23, 1996
14
14
"Arthur the Wrecker / Arthur and the True Francine"
Joe Fallon


Kathy Waugh

Stéfanie Gignac


Angus Bungay

October 24, 1996
15
15
"Arthur's Family Vacation / Grandpa Dave's Old Country Farm"
Thomas LaPierre


Matt Steinglass

François Brisson


John Pagan & Norm Roen

October 25, 1996
16
16
"Arthur and the Crunch Cereal Contest / D.W. Flips"
Peter Hirsch
Jean Lajeunesse


Gerry Capelle

October 28, 1996
17
17
"Meek for a Week / Arthur, World's Greatest Gleeper"
Joe Fallon


Matt Steinglass

Jean Charles Fink


Myron Born

October 29, 1996
18
18
"Arthur's Chicken Pox / Sick as a Dog"
Kathy Waugh


Joe Fallon

Russel Crispin


Jean Charles Fink

October 30, 1996
19
19
"D.W. Rides Again / Arthur Makes the Team"
Joe Fallon


Tom Hertz

Gerry Capelle


Jean Lajeunesse

October 31, 1996
20
20
"Arthur's Almost Boring Day / The Half-Baked Sale"
Joe Fallon


Ken Scarborough

Stefanie Gignac


Jean Lajeunesse

November 1, 1996
21
21
"Sue Ellen Moves In / The Perfect Brother"
Joe Fallon
Gerry Capelle


Stefanie Gignac

November 4, 1996
22
22
"D.W.'s Snow Mystery / Team Trouble"
Joe Fallon
Gerry Capelle
November 5, 1996
23
23
"Bully for Binky / Misfortune Teller"
Joe Fallon
Gerry Capelle


Luc Savoie

November 6, 1996
24
24
"Arthur's Tooth / D.W. Gets Lost"
James Greenberg


Joe Fallon

Jean Charles Fink


Kevin Currie

November 7, 1996
25
25
"D.W. Thinks Big / Arthur Cleans Up"
Judy Rothman


Matt Steinglass

Gerry Capelle


Jean Charles Fink

November 8, 1996
26
26
"My Dad, the Garbage Man / Poor Muffy!"
Kathy Waugh


Ken Scarborough

Sarô


Gerry Capelle

November 11, 1996
27
27
"D.W.'s Blankie / Arthur's Substitute Teacher Trouble"
Tom Hertz


Joe Fallon

Stéfanie Gignac


Nadja Cozic

November 12, 1996
28
28
"I'm a Poet / The Scare-Your-Pants-Off Club!"
Joe Fallon


Terence Taylor

Kevin Currie


Angus Bungay

November 13, 1996
29
29
"My Club Rules / Stolen Bike"
Joe Fallon


Kathy Waugh

Gerry Capelle


Angus Bungay

November 14, 1996
30
30
"Arthur's First Sleepover / Arthur's New Year's Eve"
Joe Fallon
Jean Lajeunesse


Darren Brereton

November 15, 1996
Season 2 (1997–98)[edit]
Main article: Arthur (season 2)
No.


overall

No. in


season

Title
Written by
Storyboarded by
Original air date
31
1
"Arthur Meets Mister Rogers / Draw!"
Ken Scarborough


Joe Fallon

Denis Banville


Eric Bergeron & Gerry Capelle

October 20, 1997
32
2
"Binky Barnes, Art Expert / Arthur's Lucky Pencil"
Joe Fallon


Peter Hirsch

Harry Rasmussen


Stéfanie Gignac

October 21, 1997
33
3
"D.W. the Picky Eater / Buster and the Daredevils"
Anne-Marie Perrotta


Peter Hirsch

Denis Banville


Grace Lam

October 22, 1997
34
4
"Arthur Makes a Movie / Go to Your Room, D.W."
Peter Hirsch


Kathy Waugh

Robert Yap


Alex Szewczuk

October 23, 1997
35
5
"Arthur's Underwear / Francine Frensky, Olympic Rider"
Peter Hirsch


Kathy Waugh

Jean Lajeunesse


Denis Banville

October 24, 1997
36
6
"Buster Baxter, Cat Saver / Play it Again, D.W."
Joe Fallon
Denis Banville


Harry Rasmussen

October 27, 1997
37
7
"Arthur's TV-Free Week / Night Fright"
Peter Hirsch


Joe Fallon

Stéfanie Gignac


Gerry Capelle

October 28, 1997
38
8
"Arthur vs. the Piano / The Big Blow-Up"
Joe Fallon
Harry Rasmussen


Alex Szewczuk

October 29, 1997
39
9
"Lost! / The Short, Quick Summer"
Kathy Waugh


Joe Fallon

Gerry Capelle


Denis Banville

October 30, 1997
40
10
"D.W. Goes to Washington / Arthur's Mystery Envelope"


"Meets the President/Arthur's Mystery Envelope"[3]

Joe Fallon


Sheilarae Carpentier Lau

Gerry Capelle


Gary Scott & Nelson Dewey

October 31, 1997
41
11
"D.W.'s Deer Friend / Buster Hits the Books"
Joe Fallon
Robert Yap


Jeremy O'Neill & Ivan Tankushev

April 6, 1998
42
12
"Arthur's Faraway Friend / Arthur and the Square Dance"
Joe Fallon


Peter K. Hirsch

Brian Anderson


Gerry Capelle

April 7, 1998
43
13
"Water and the Brain / Arthur the Unfunny"
Peter K. Hirsch


Joe Fallon

Robert Yap


Stéfanie Gignac

April 8, 1998
44
14
"Sue Ellen's Lost Diary / Arthur's Knee"
Peter K. Hirsch


Sheilarae Carpentier Lau

Ivan Tankushev


M. Gagnon & M. Cuadrado

April 9, 1998
45
15
"Grandma Thora Appreciation Day / Fern's Slumber Party"
Kathy Waugh


Sandra Willard

Angus Bungay


Nelson Dewey

April 10, 1998
46
16
"Love Notes for Muffy / D.W. Blows the Whistle"
Sandra Willard


Barry Rinehart & Ian Saunders

Robert Yap
April 13, 1998
47
17
"Francine Redecorates / Arthur the Loser"
Sandra Willard


Joe Fallon

Stéfanie Gignac


Brian Anderson

April 14, 1998
48
18
"Arthur vs. the Very Mean Crossing Guard / D.W.'s Very Bad Mood"
Ken Scarborough


Kathy Waugh

Gerry Capelle & M. Gagnon


Guy Lamoureux & Robert Yap

April 15, 1998
49
19
"D.W.'s Name Game / Finders Key-pers"
Joe Fallon


Chris Moore

Robert Yap


Stéfanie Gignac

April 16, 1998
50
20
"How the Cookie Crumbles / Sue Ellen's Little Sister"
Joe Fallon


Peter K. Hirsch

Brian Anderson


Stéfanie Gignac

April 17, 1998
Season 3 (1998–99)[edit]
Main article: Arthur (season 3)
No.


overall

No. in


season

Title
Written by
Storyboarded by
Original air date
51
1
"Buster's Back / The Ballad of Buster Baxter"
Joe Fallon
Gerry Capelle


Stéfanie Gignac

November 16, 1998
52
2
"D.W. All Fired Up / I'd Rather Read It Myself"
Peter K. Hirsch


Joe Fallon

Stéfanie Gignac


Robert Yap

November 17, 1998
53
3
"Arthur Goes Crosswire / Sue Ellen and the Brainasaurous"
Chris Moore


Chris Moore & Ken Scarborough

Nick Rijgersberg & Jeremy O'Neill


Robert Yap

November 18, 1998
54
4
"Background Blues / And Now Let's Talk to Some Kids"
Peter K. Hirsch


Joe Fallon

Robert Yap


Stéfanie Gignac

November 19, 1998
55
5
"The Chips are Down / Revenge of the Chip"
Joe Fallon


Dietrich Smith

Stéfanie Gignac


Mario Cabrera

November 20, 1998
56
6
"Binky Rules / Meet Binky"
Sandra Willard
Robert Yap


Jeremy O'Neill & Larry Jacobs

November 23, 1998
57
7
"Arthur Rides the Bandwagon / Dad's Dessert Dilemma"
Peter K. Hirsch


Sandra Willard

Robert Shedlowich & Mario Cabrera


Jeremy O'Neill & Alex Greychuck

November 24, 1998
58
8
"Popular Girls / Buster's Growing Grudge"
Sandra Willard


Joe Fallon

Jeremy O'Neill


Robert Yap & Daniel Decelles

November 25, 1998
59
9
"Arthur's Treasure Hunt / The Return of the King"
Stephen Krensky


Peter K. Hirsch

Mario Cabrera & Rich Vanatte


Mario Cabrera

November 26, 1998
60
10
"Attack of the Turbo Tibbles / D.W. Tricks the Tooth Fairy"
Joe Fallon
Robert Yap


Stéfanie Gignac

November 27, 1998
61
11
"Double Tibble Trouble / Arthur's Almost Live Not Real Music Festival"
Peter K. Hirsch


Joe Fallon & Ken Scarborough

Stéfanie Gignac


Robert Yap

December 28, 1998
62
12
"What Scared Sue Ellen? / Clarissa is Cracked"
Bruce Akiyama


Sandra Willard

Stéfanie Gignac


Bulent Karabagli & Marcos Da Silva

December 29, 1998
63
13
"Arthur's Dummy Disaster / Francine and the Feline"
Peter K. Hirsch


Sandra Willard

Mario Cabrera


Robert Yap

December 30, 1998
64
14
"Mom and Dad Have a Great Big Fight / D.W.'s Perfect Wish"
Joe Fallon
Robert Yap


Stéfanie Gignac

December 31, 1998
65
15
"Arthur and D.W. Clean Up / The Long, Dull Winter"
Anne-Marie Perrotta & Tean Schultz


Joe Fallon

Robert Yap & Jeremy O'Neill


Jeremy O'Neill

January 1, 1999
Season 4 (1999)[edit]
Main article: Arthur (season 4)
No.


overall

No. in


season

Title
Written by
Storyboarded by
Original air date
66
1
"D.W.'s Library Card / Arthur's Big Hit"
Peter K. Hirsch


Joe Fallon

Mario Cabrera


Robert Yap

October 4, 1999
67
2
"Hide and Snake / Muffy's New Best Friend"
Bruce Akiyama


Dietrich Smith

Stefanie Gignac
October 5, 1999
68
3
"Buster's Breathless / The Fright Stuff"
Peter K. Hirsch


Bruce Akiyama

Michel Magnan & Alex Hawley


Jeremy O'Neill

October 7, 1999
69
4
"The Contest / Prove It!"
Ken Scarborough


Joe Fallon

Robert Yap


Jeremy O'Neill

October 8, 1999
70
5
"The Blizzard / The Rat Who Came to Dinner"
Joe Fallon
Alex Hawley


Maria Astadjova & Jeremy O'Neill

October 11, 1999
71
6
"D.W. Tale Spins / Prunella Gets It Twice"
Joe Fallon
Stefanie Gignac


Michel Magnan & Peter Huggan

October 12, 1999
72
7
"Binky Barnes, Wingman! / To Beat or Not to Beat"
Bruce Akiyama


Barney Saltzberg

Robert Yap


Jeremy O'Neil

October 13, 1999
73
8
"1001 Dads / Prunella's Prediction"
Peter K. Hirsch


Jennifer Barnes

Robert Yap


Stefanie Gignac

October 14, 1999
74
9
"What is That Thing? / Buster's Best Behavior"
Gerard Lewis


Peter K. Hirsch

Jeremy O'Neill & Emmanuelle Gignac


Robert Yap, David Thrasher & Guylaine Seguin

October 15, 1999
75
10
"My Music Rules / That's a Baby Show!"
Ken Scarborough


Joe Fallon

Alex Hawley, Robert Yap & Stefanie Gignac


Robert Yap

October 18, 1999
Season 5 (2000)[edit]
Main article: Arthur (season 5)
No.


overall

No. in


season

Title
Written by
Storyboarded by
Original air date
76
1
"Arthur and the Big Riddle / Double Dare"
Peter K. Hirsch


Kathy Waugh

Robert Yap


Guylaine Seguin, Lyndon Ruddy & Greg Huculack

September 4, 2000
77
2
"Kids are from Earth, Parents are from Pluto / Nerves of Steal"
Peter K. Hirsch


Bruce Akiyama

Mario Cabrera, Patricia Atchison & Marie Blanchard


Eric Bergeron, Greg Huculack & Patricia Atchinson

September 11, 2000
78
3
"It's a No-Brainer / The Shore Thing"
Dietrich Smith


Bruce Akiyama

Robert Yap


Zoran Vanjaka

September 18, 2000
79
4
"The Cave / The World Record"
Joseph Purdy


Gerard Lewis

Nick Vallinakis & Zoran Vanjaka


Lyndon Ruddy & Helene Cossette

September 25, 2000
80
5
"The Lousy Week / You Are Arthur"
Peter K. Hirsch
Stefanie Gignac & Patricia Atchinson


Robert Yap

October 2, 2000
81
6
"The Election / Francine Goes to War"
Joseph Purdy


Kathy Waugh

Robert Yap


Lyndon Ruddy & Patricia Atchinson

October 9, 2000
82
7
"Sleep No More / Pet Peeved"
Dietrich Smith


Bruce Akiyama

Stefanie Gignac


Lyndon Ruddy, Guylane Seguin & Eric St. Gelais

October 16, 2000
83
8
"The Last of Mary Moo Cow / Bitzi's Beau"
Dietrich Smith


Peter K. Hirsch

Zoran Vanjaka


John Delaney, Nick Vallinakis & Elie Klimos

October 23, 2000
84
9
"Just Desserts / The Big Dig"
Peter K. Hirsch (Idea by: Bruce Akiyama)


Kathy Waugh

Stefanie Gignac


Elie Klimos, Angus Bungay, Guylaine Seguin, Eric St. Gelais, & Zhigang Wang

October 30, 2000
85
10
"Arthur's Family Feud / Muffy Gets Mature"
Peter K. Hirsch


Michel Lamoreaux

Stéfanie Gignac & Robert Yap


Robert Yap

November 6, 2000
Season 6 (2001)[edit]
Main article: Arthur (season 6)
No.


overall

No. in


season

Title
Written by
Storyboard by
Original air date
86
1
"Sue Ellen Gets Her Goose Cooked / Best of the Nest"
Peter K. Hirsch (Idea by: Bill Shribman)


Peter K. Hirsch

Robert Yap


Zhigang Wang

September 24, 2001
87
2
"Arthur Plays the Blues / Buster's Sweet Success"
Catherine Lieuwen


Nick Raposo

Jeremy O'Neill


Robert Yap

October 1, 2001
88
3
"Prunella's Special Edition / The Secret Life of Dogs and Babies"
Matthew Lane


Peter K. Hirsch

Robert Yap


Patricia Atchinson & Elie Klimos

October 8, 2001
89
4
"Muffy's Soccer Shocker / Brother Can You Spare a Clarinet?"
Matt Steinglass


Dietrich Smith

Lyndon Ruddy & Patricia Atchinson


Jeremy O'Neill & Stefanie Gignac

October 15, 2001
90
5
"The Boy Who Cried Comet! / Arthur and Los Vecinos"
Peter K. Hirsch


Cusi Cram

Elie Klimos & Zhigang Wang


Patricia Atchinson & Elie Klimos

October 22, 2001
91
6
"Citizen Frensky / D.W.'s Backpack Mishap"
Jacqui Deegan


Cusi Cram

Jeremy O'Neill
October 29, 2001
92
7
"The Boy with His Head in the Clouds / More!"
Peter K. Hirsch


Dietrich Smith

Robert Yap


Elie Klimos & Patricia Atchinson

November 5, 2001
93
8
"Rhyme for Your Life / For Whom the Bell Tolls"
Peter K. Hirsch


Kathy Waugh

Robert Yap


Stefanie Gignac

November 12, 2001
94
9
"The Good Sport / Crushed"
Kathy Waugh


Catherine Lieuwen

Jeremy O'Neill


Lyndon Ruddy, Robert Yap & Jeremy O'Neill

November 19, 2001
95
10
"Arthur Loses His Marbles / Friday the 13th"
Nick Raposo


Gerard Lewis

Alex Hawley & Elie Klimos


Alex Hawley & Lyndon Ruddy

November 26, 2001
Season 7 (2002)[edit]
Main article: Arthur (season 7)
No.


overall

No. in


season

Title
Written by
Storyboard by
Original air date
96
1
"Cast Away / The Great Sock Mystery"
Dietrich Smith


Peter K. Hirsch

Gerry Capelle


Stefanie Gignac

October 8, 2002
97
2
"Francine's Split Decision / Muffy Goes Metropolitan"
Peter Egan


Matthew Lane

Stefanie Gignac


Jeremy O'Neill

October 9, 2002
98
3
"Ants in Arthur's Pants / Don't Ask Muffy"
Glen Berger


Cusi Cram

Robert Yap


Gerry Capelle

October 10, 2002
99
4
"To Tibble the Truth / Waiting to Go"
Gerard Lewis & Peter K. Hirsch


Glen Berger

Robert Yap
October 11, 2002
100
5
"Elwood City Turns 100!"
Peter K. Hirsch & Matthew Lane
Jeremy O'Neill & Robert Yap
October 14, 2002
101
6
"Pick a Car, Any Car / Jenna's Bedtime Blues"
Peter Egan


Glen Burger

Jeremy O'Neill


Jean Saro & Sylvie Lafrance

October 15, 2002
102
7
"D.W.'s Time Trouble / Buster's Amish Mismatch"
Dietrich Smith


Peter Egan

Gerry Capelle


Jean Saro & Sylvie Lafrance

October 16, 2002
103
8
"The World of Tomorrow / Is There a Doctor in the House?"
Peter Egan


Nick Raposo

Robert Yap


Gerry Capelle

October 17, 2002
104
9
"Prunella Sees the Light / Return of the Snowball"
Peter K. Hirsch


Dietrich Smith

Jeremy O'Neill


Gerry Capelle

October 18, 2002
105
10
"April 9th"
Peter K. Hirsch
Gerry Capelle & Jeremy O'Neill
October 21, 2002
Season 8 (2003)[edit]
Main article: Arthur (season 8)
No.


overall

No. in


season

Title
Written by
Storyboard by
Original air date
106
1
"Dear Adil / Bitzi's Break Up"
Peter K. Hirsch
Ivan Tankushev


Jeremy O'Neill

September 15, 2003
107
2
"Fernfern and the Secret of Moose Mountain / Thanks a Lot, Binky"
Stephanie Simpson


Peter Egan

Ivan Tankushev


Julian Harris

September 16, 2003
108
3
"Arthur's Snow Biz / Bugged"
Jonathan Greenberg
Jeremy O'Neill


Robert Yap

September 17, 2003
109
4
"Fernkenstein's Monster / D.W., Dancing Queen"
Stephanie Simpson


Glen Berger

Ivan Tankushev & Patricia Atchinson


Robert Yap

September 18, 2003
110
5
"Vomitrocious / Sue Ellen Chickens Out"
Dietrich Smith


Peter Egan & Peter K. Hirsch

Julian Harris & Patricia Atchinson


Robert Yap

September 19, 2003
111
6
"Postcards from Buster"
Peter K. Hirsch
Jeremy O'Neill
December 22, 2003
112
7
"Desk Wars / Desperately Seeking Stanley"
Glen Berger


Cusi Cram

Gerry Capelle


Julian Harris & Patricia Atchinson

December 23, 2003
113
8
"Muffy's Art Attack / Tales from the Crib"
Stephanie Simpson


Jonathan Greenberg

Jeremy O'Neill


Robert Yap & Julian Harris

December 24, 2003
114
9
"Flea to Be You and Me / Kiss and Tell"
Jonathan Greenberg (Story by: Cusi Cram)


Jacqui Deegan

Gerry Capelle


Jeremy O'Neill & Julian Harris

December 25, 2003
115
10
"Big Horns George / Bleep"
Peter K. Hirsch


Dietrich Smith

Gerry Capelle & Robert Yap


Jeremy O'Neill

December 26, 2003
Season 9 (2004–05)[edit]
Main article: Arthur (season 9)
No.


overall

No. in


season

Title
Written by
Storyboard by
Original air date
116
1
"Castles in the Sky / Tipping the Scales"
Peter K. Hirsch


Alan Silberberg

Jeremy O'Neill


Robert Yap

December 20, 2004
117
2
"Francine's Big Top Trouble / George Blows His Top"
Adam Felber


Courtney Lilly

Ivan Tankushev


Gerry Capelle

December 21, 2004
118
3
"Arthur Weighs In / The Law of the Jungle Gym"
Raye Lankford


Matt Steinglass

Francois Brisson


Gerry Capelle, Ivan Tankushev & Francois Brisson

December 22, 2004
119
4
"Buster's Green Thumb / My Fair Tommy"
Catherine Lieuwen & Peter K. Hirsch


Dietrich Smith

Jeremy O'Neill


Stéfanie Gignac

December 23, 2004
120
5
"Lights, Camera, Opera! / All Worked Up!"
Peter K. Hirsch


Daisy Scott

Stéfanie Gignac


Jeremy O'Neill

December 24, 2004
121
6
"Arthur Makes Waves / It Came from Beyond"
Raye Lankford


Peter K. Hirsch

Patricia Atchinson & Robert Yap


Gerry Capelle

April 4, 2005
122
7
"Three's a Crowd / "A" is for Angry!"
Hilary Selden Illick


Dietrich Smith

Stéfanie Gignac


Robert Yap

April 5, 2005
123
8
"The "A" Team / Emily Swallows a Horse"
Daisy Scott


Melissa Kirsch

Jeremy O'Neill & Robert Yap


Stèfanie Gignac

April 6, 2005
124
9
"D.W. Beats All / Buster the Myth Maker"
Raye Lankford


Matt Steinglass

Jeremy O'Neill


Stéfanie Gignac

April 7, 2005
125
10
"Binky Goes Nuts / Breezy Listening Blues"
Cusi Cram


Peter K. Kirsch

Gerry Capelle


Jeremy O'Neill

April 8, 2005
Season 10 (2006)[edit]
Main article: Arthur (season 10)
No.


overall

No. in


season

Title
Written by
Storyboard by
Original air date
126
1
"Happy Anniversary"
Peter K. Hirsch
Gerry Capelle & Elie Klimos
May 15, 2006
127
2
"The Squirrels / Fern & Persimmony Glitchet"
Dietrich Smith


Stephanie Simpson

Jeremy O'Neill


Elie Klimos & Ivan Tankushev

May 16, 2006
128
3
"Desert Island Dish / The Secret About Secrets"
Daisy Scott


Stephanie Simpson

Jeremy O'Neill


Stéphanie Gignac

May 17, 2006
129
4
"Feeling Flush / Family Fortune"
Glen Berger


Joel Barkow & Stephanie Simpson

Gerry Capelle


Jeremy O'Neill

May 18, 2006
130
5
"D.W. Aims High / Flaw and Order"
Rose Compagine


Gentry Menzel

Gerry Capelle


Stéphanie Gignac

May 19, 2006
131
6
"The Curse of the Grebes / Arthur Changes Gears"
Stephanie Simpson


Raye Lankford

Elie Klimos & Jeremy O'Neill


Patricia Atchinson

May 22, 2006
132
7
"Unfinished / D.W., Bossy Boots"
Dietrich Smith


Raye Lankford

Elie Klimos


Stéphanie Gignac

May 23, 2006
133
8
"Binky vs. Binky / Operation D.W."
Raye Lankford


Stephanie Simpson

Patricia Atchinson


Jeremy O'Neill

May 24, 2006
134
9
"Do You Speak George? / World Girls"
Peter K. Hirsch


Hilary Illick

Stéphanie Gignac


Jeremy O'Neill

May 25, 2006
135
10
"What's Cooking? / Buster's Special Delivery"
Hilary Illick


Cusi Cram

Stéphanie Gignac


Elie Klimos

May 26, 2006
Season 11 (2007)[edit]
Main article: Arthur (season 11)
No.


overall

No. in


season

Title
Written by
Storyboard by
Original air date
136
1
"Swept Away / Germophobia"
Peter K. Hirsch


Dietrich Smith

Jean Lacombe


Elie Klimos, Elise Benoît & Nick Vallinakis

June 25, 2007
137
2
"Arthur Sells Out / Mind Your Manners"
Raye Lankford


P. Kevin Strader

Ivan Tankushev


Robert Yap & Nick Vallinakis

June 26, 2007
138
3
"Buenas Noches, Vicita / Prunella Packs It In"
Cusi Cram


Susan Kim

Gerry Capelle


Elie Klimos, Elise Benoît & Jean Lajeunesse

June 27, 2007
139
4
"Phony Fern / Brain's Shocking Secret"
Peter K. Hirsch


Glen Berger

Gerry Capelle


Stéphanie Gignac

June 28, 2007
140
5
"Baby Kate and the Imaginary Mystery / Strangers on a Train"
Peter K. Hirsch


Gentry Menzel

Elie Klimos & Elise Benoît


Gerry Capelle

June 29, 2007
141
6
"The Making of Arthur / Dancing Fools"
Peter K. Hirsch


Cusi Cram

Jeremy O'Neill


Stéphanie Gignac & Nick Vallinakis

September 3, 2007
142
7
"Hic or Treat / Mr. Alwaysright"
Kathy Waugh


Peter K. Hirsch

Robert Yap


Jeremy O'Neill

September 4, 2007
143
8
"Francine's Pilfered Paper / Buster Gets Real"
Raye Lankford


Dietrich Smith

Jean Lacombe, Ivan Tankushev & Robert Yap


Elie Klimos & Elise Benoît

September 5, 2007
144
9
"D.W. on Ice / Spoiled Rotten"
Raye Lankford


Peter K. Hirsch & Wolfram Breuer

Jean Lacombe & Robert Yap


Stéphanie Gignac

September 6, 2007
145
10
"Big Brother Binky"
Stephanie Simpson
Stéphanie Gignac, Elie Klimos & Elise Benoît
September 7, 2007
Season 12 (2008–09)[edit]
Main article: Arthur (season 12)
No.


overall

No. in


season

Title
Written by
Storyboard by
Original air date
146
1
"Is That Kosher? / Never, Never, Never"
Allan Neuwirth


Dietrich Smith

Robert Yap


Gerry Capelle

October 6, 2008
147
2
"Room to Ride / The Frensky Family Fiasco"
Martha Atwater, Ken Olshansky & Peter K. Hirsch


Peter K. Hirsch

Ivan Tankushev


Nick Vallinakis

October 13, 2008
148
3
"D.W's Stray Netkitten / Bats in the Belfry"
Matt Steinglass


Susan Kim

Gerry Capelle


Elise Benoît, Elie Klimos & Jeremy O'Neill

October 20, 2008
149
4
"Ungifted / For The Birds"
Joe Purdy


Susan Kim

Gerry Capelle & Michel Carbonneau


Ivan Tankushev

October 27, 2008
150
5
"On This Spot / The Chronicles of Buster"
Dietrich Smith
Ivan Tankushev & Jeremy O'Neill


Daniel Decelles

November 3, 2008
151
6
"The Cherry Tree / Matchmaker Matchbreaker"[4]


"The Cherry Tree / Matchmaker Matchbreaker"[5]

Leah Ryan


Allan Neuwirth

Daniel Miodini, Nick Vallinakis & Sylvie Lafrance


Zhigang Wang

April 20, 2009
152
7
"War of the Worms / I Owe You One"[6]
Gentry Menzel


Dietrich Smith

Elise Benoît, Elie Klimos, Zhigang Wang & Sylvie Lafrance


Daniel Decelles

April 21, 2009
153
8
"The Blackout / Mei Lin Takes a Stand"[7]
Cusi Cram


Peter K. Hirsch

Jeremy O'Neill, Daniel Miodini & Nadja Cozic


Nick Vallinakis

April 22, 2009
154
9
"Home Sweet Home / Do You Believe in Magic"[8]
Peter K. Hirsch


Jonathan Greenberg

Gerry Capelle


Daniel Decelles

April 23, 2009
155
10
"The Perfect Game / D.W.'s Furry Freakout"[9]
Elliot Thomson


David Steven Cohen

Jeremy O'Neill & Daniel Miodini


Elie Klimos & Élise Benoît

April 24, 2009
Season 13 (2009–10)[edit]
Main article: Arthur (season 13)
No.


overall

No. in


season

Title
Written by
Storyboard by
Original air date
156
1
"No Acting, Please / Prunella and the Disappointing Ending"[10]
Cusi Cram


Jonathan Greenberg

Elie Klimos, Nadja Cozic & Élise Benoît


Robert Yap

October 12, 2009
157
2
"The Silent Treatment / Kung Fool"[11]
Claudia Silver
Robert Yap
October 13, 2009
158
3
"Arthur's Number Nightmare / Brain Gets Hooked"[12]
Peter K. Hirsch


Matt Steinglass

Elie Klimos & Élise Benoît


Aliaksei Kazakou & Michel Carbonneau

October 14, 2009
159
4
"MacFrensky / The Good, the Bad, and the Binky"[13]
Jonathan Greenberg


Claudia Silver

Michel Carbonneau & Stéphanie Gignac


Gerry Capelle

October 15, 2009
160
5
"The Great MacGrady"[14]
Peter K. Hirsch & Leah Ryan
Zhigang Wang
October 19, 2009
161
6
"When Carl Met George / D.W. Swims with the Fishes"[15]
Peter K. Hirsch


Cydne Clark & Steve Granat

Gerry Capelle & Nick Vallinakis


Robert Yap

April 5, 2010
162
7
"The Portrait of the Artist as a Young Tibble / The Secret Guardians"[16]
Peter K. Hirsch


Guy Lancaster

Nick Vallinakis & Daniel Miodini


Daniel Decelles

April 6, 2010
163
8
"Fernlets by Fern / Prunella and the Haunted Locker"[17]
David Steven Cohen


Gentry Menzel

Zhigang Wang


Nick Vallinakis & Sylvie Lafrance

April 7, 2010
164
9
"Paradise Lost / The Pride of Lakewood"[18]
Jonathan Greenberg


Peter K. Hirsch

Nick Vallinakis & Daniel Miodini


Zhigang Wang, Jeremy O'Neill, Nick Vallinakis & Gerry Capelle

April 8, 2010
165
10
"Looking for Bonnie / The Secret Origin of Supernova"[19]
David Steven Cohen


Jonathan Greenberg

Daniel Miodini & Jeremy O'Neill


Robert Yap

April 9, 2010
Season 14 (2010–11)[edit]
Main article: Arthur (season 14)
No.


overall

No. in


season

Title
Written by
Storyboard by
Original air date
166
1
"The Wheel Deal / The Buster Report"[20]
Raye Lankford


Ken Scarborough

Daniel Miodini


Zhigang Wang & Lisa Whittick

October 11, 2010
167
2
"The Agent of Change / D.W. Unties the Knot"[21]
Gentry Menzel


P. Kevin Strader

Gerry Capelle


Greg Hill

October 12, 2010
168
3
"Nicked by a Name / The Play's the Thing"[22]
Ken Pontac


P. Kevin Strader

Jim Craig & Rob Clarke


Chris Damboise, Jean-Marc Paradis & Dev Ramsaran

October 13, 2010
169
4
"Falafelosophy / The Great Lint Rush"[23]
David Steven Cohen & Peter K. Hirsch


Peter K. Hirsch

Elise Benoît & François Brisson


Louis Piché

October 25, 2010
170
5
"Tales of Grotesquely Grim Bunny / Pet Projects"[24]
David Steven Cohen


Scott Gray

Elise Benoît


Rob Clark

October 29, 2010
171
6
"Follow the Bouncing Ball / Buster Baxter and the Letter from the Sea"
Peter K. Hirsch


Mathayu Warren Lane & Peter K. Hirsch

Ivan Tankushev
April 22, 2011
172
7
"Around the World in 11 Minutes / Muffy and the Big Bad Blog"
Jon Greenberg
Louis Piché


François Brisson

April 25, 2011
173
8
"Arthur Unravels / All the Rage"
Susan Kim


Claudia Silver

François Brisson


Louis Piché & Al Jeffery

April 26, 2011
174
9
"D.W., Queen of the Comeback / In My Africa"
Peter K. Hirsch


Ken Pontac

Greg Hill


Gerry Capelle

April 27, 2011
175
10
"Buster Spaces Out / The Long Road Home"
Ron Holsey


Peter K. Hirsch

François Brisson


Louis Piché

April 28, 2011
Season 15 (2011–12)[edit]
Main article: Arthur (season 15)
No.


overall

No. in


season

Title
Written by
Storyboard by
Original air date
176
1
"Fifteen"
Jon Greenberg
Daniel Miodini & Greg Hill
October 10, 2011
177
2
"I Wanna Hold Your Hand / Whistling in the Wind"
Raye Lankford


Dietrich Smith

Daniel Miodini


Elise Benoît

October 11, 2011
178
3
"Buster's Secret Admirer / The Last King of Lambland"
Allan Neuwirth & Peter K. Hirsch


Tolon Brown

Elise Benoît


Robert Yap

October 12, 2011
179
4
"Cents-Less / Buster the Lounge Lizard"
Scott Gray


Raye Lankford

Gerry Capelle


Rob Clark

October 13, 2011
180
5
"To Eat or Not to Eat / S.W.E.A.T."
Ken Pontac


Claudia Silver

Rob Clark, Karine Charlebois & Guy Lamoureux


Daniel Miodini & Lisa Whittick

October 14, 2011
181
6
"Prunella the Packrat / What's In a Name?"
Guy Lancaster & Peter K. Hirsch


John Marsh

Daniel Miodini & François Brisson


Gerry Capelle & Robert Yap

April 16, 2012
182
7
"Muffy's Classy Classics Club / Best Enemies"
Susan Kim


Jon Greenberg

Jean Lajeunesse, Patrick Boutin & Gerry Capelle


Jean-Marc Paradis & Alex Greychuck

May 23, 2012
183
8
"Buster's Garden of Grief / Through the Looking Glasses"
Dietrich Smith


Pennel Bird

Gerry Capelle


Jeremy O'Neill, Jean-Luc Trudel & Patrick Boutin

May 24, 2012
184
9
"The Butler Did... What? / The Trouble with Trophies"
Wolfram Breuer


Cusi Cram

François Brisson


Louis Piché & Guy Lamoureux

May 25, 2012
185
10
"Grandpa Dave's Memory Album / Buster's Carpool Catastrophe"
Ken Scarborough


Elliott Thomson

François Brisson


Tapani Knuutila, Jean Lajeunesse & Rob Clark

June 15, 2012
Season 16 (2012–13)[edit]
Main article: Arthur (season 16)
No.


overall

No. in


season

Title
Written by
Storyboard by
Original air date
186
1
"Based on a True Story"
Peter K. Hirsch
Gerry Capelle & Cilbur Rocha
October 15, 2012
187
2
"Flippity Francine / Muffy Takes the Wheel"
Matt Hoverman


Jon Greenberg

Allan Jeffery


Gerry Capelle

October 16, 2012
188
3
"All About D.W. / Blockheads"
Claudia Silver


Jon Greenberg

Ken Cunningham


Robert Yap

October 17, 2012
189
4
"Get Smart / Baby Steps"
Claudia Silver


P. Kevin Strader

Cilbur Rocha


Gerry Capelle

October 18, 2012
190
5
"Night of the Tibble / Read and Flumberghast"
Dietrich Smith


Peter K. Hirsch

Allan Jeffery


Robert Yap

October 19, 2012
191
6
"The Last Tough Customer / Brain's Chess Mess"
P. Kevin Strader & Peter K. Hirsch


Peter K. Hirsch

Cilbur Rocha


Allan Jeffery

May 6, 2013
192
7
"Baseball Blues / Brain's Biggest Blunder"
David Steven Cohen


Matt Hoverman

Ken Cunningham


Robert Yap

May 7, 2013
193
8
"Buster's Book Battle / On the Buster Scale"
Jon Greenberg


Dietrich Smith

Gerry Capelle


Ken Cunningham

May 8, 2013
194
9
"Fern and the Case of the Stolen Story / Sue Ellen Vegges Out"
Craig Carlisle


Jacqui Deegan

Jeremy O'Neill


Raymond Jafelice

May 9, 2013
195
10
"So Funny I Forgot to Laugh / The Best Day Ever"
Peter K. Hirsch


Andy Yerkes

Allan Jeffery


Gerry Capelle

May 10, 2013
Season 17 (2013–14)[edit]
Main article: Arthur (season 17)
No.


overall

No. in


season

Title
Written by
Storyboard by
Original air date
196
1
"Show Off / Dog's Best Friend"[25]
Peter K. Hirsch


Jacqui Deegan & Peter K. Hirsch

Ken Cunningham


Allan Jeffery

November 11, 2013
197
2
"Adventures in Budylon / Ladonna Compson: Party Animal"[26]
Craig Carlisle


Marin Gazzaniga

Cilbur Rocha


Daniel Miodini

November 12, 2013
198
3
"Molina's Mulligan / Buster Bombs"[27]
Matt Hoverman


Ken Pontac

Cilbur Rocha


Ken Cunningham

November 13, 2013
199
4
"Opposites Distract / Just the Ticket"[28]
Matt Hoverman


Dietrich Smith

Gerry Capelle


Ken Cunningham

November 14, 2013
200
5
"All Thumbs / Kidonia"[29]
Dietrich Smith


Tolon Brown & Peter K. Hirsch

Gerry Capelle


Ken Cunningham

November 15, 2013
201
6
"Speak Up, Francine! / Waiting for Snow"[30]
Jon Greenberg


Scott Gray

Allan Jeffery


Cilbur Rocha

April 21, 2014
202
7
"Pets and Pests / Go Fly a Kite"[31]
Peter K. Hirsch
Allan Jeffery


Cilbur Rocha

April 22, 2014
203
8
"The Director's Cut / Crime and Consequences"[32]
Elliott Thomson & Peter K. Hirsch


Peter K. Hirsch

Robert Yap


Gerry Capelle

May 12, 2014
204
9
"Caught in the Crosswires / Framed!"[33]
Scott Gray


Kathy Waugh

Allan Jeffery


Cilbur Rocha

May 13, 2014
205
10
"Binky's Music Madness / Brain Freeze"[34]
David Steven Cohen


Andy Yerkes & Peter K. Hirsch

Ken Cunningham


Gerry Capelle

May 14, 2014[35]
Season 18 (2014–15)[edit]
Main article: Arthur (season 18)
No.


overall

No. in


season

Title
Written by
Storyboard by
Original air date
206
1
"The Friend Who Wasn't There / Surprise!"[36]
Craig Carlisle & Peter K. Hirsch


Ken Scarborough

Gerry Capelle


Allan Jeffery

September 29, 2014
207
2
"The Case of the Girl With the Long Face / The Substitute Arthur"[36]
Matt Hoverman


Ken Scarborough

Jeremy O'Neill


Rick Marshall

September 30, 2014
208
3
"The Tattletale Frog / D.W. & Bud's Higher Purpose"[36]
Ken Scarborough


Peter K. Hirsch

Rick Marshall


Jeremy O'Neill

October 1, 2014
209
4
"Best Wishes / The Tardy Tumbler"[36]
Dietrich Smith & Peter K. Hirsch


Matt Hoverman

Gerry Capelle


Allan Jeffery

October 2, 2014
210
5
"Fountain Abbey / Arthur Calls It"[36]
Kathy Waugh


Craig Carlisle & Peter K. Hirsch

Gerry Capelle


Rick Marshall

January 26, 2015 [37]
211
6
"Whip. Mix. Blend. / Staycation"[38]
Peter K. Hirsch


Kathy Waugh

Allan Jeffery


Gerry Capelle

September 7, 2015[39]
212
7
"Two Minutes / Messy Dress Mess"[40]
Ken Scarborough


Raye Lankford

Gerry Capelle


Mitch Manzer

June 1, 2015
213
8
"Arthur Read, Super Saver / Tibbles to The Rescue"[41]
Raye Lankford


Matt Hoverman

Mitch Manzer


Jeremy O'Neill

September 10, 2015[42]
214
9
"The Pageant Pickle / Some Assembly Required"[43]
Ken Scarborough


Craig Carlisle

Jeremy O'Neill


Rick Marshall

June 1, 2015[44]
215
10
"Shelter from the Storm"[45]
Peter K. Hirsch
Allan Jeffery & Wayne Lee Pack
September 8, 2015[46]
Season 19 (2015–16)[edit]
Main article: Arthur (season 19)
No.


overall

No. in


season

Title
Written by
Storyboard by
Original air date
216
1
"Brain's Brain/Brain Sees Stars[47]"
Peter K. Hirsch


Matt Hoverman

Rich Vanatte


Jeremy O'Neill

January 18, 2016[47]
217
2
"Sue Ellen Adds It Up/Wish You Were Here[48]"
Cusi Cram & Peter K. Hirsch


Dietrich Smith

Rich Vanatte


Al Jeffery

January 19, 2016[48]
218
3
"Arthur's Toy Trouble/Spar for the Course[49]"
Ken Scarborough


David Steven Cohen & Raye Lankford

Allan Jeffery


Jeremy O'Neill

January 20, 2016[49]
219
4
"Carried Away/Dueling Detectives![50]"
Matt Hoverman


Ken Scarborough

Allan Jeffery


Jeremy O'Neill

May 26, 2016[50]
220
5
"Buster Isn't Buying It/One Ornery Critter[51]"
Peter K. Hirsch


Dietrich Smith

Jeremy O'Neill


Rick Marshall

June 2, 2015[51]
221
6
"Maria Speaks/Postcards from Binky[52]"
Vanessa Wiegel


Ken Scarborough

Jeremy O'Neill


Rick Marshall

May 24, 2016[52]
222
7
"Carl's Concerto/Too Much of a Good Thing[53]"
Eric Shaw & Peter K. Hirsch


Peter K. Hirsch

Gerry Capelle


Rick Marshall

April 5, 2016[53]
223
8
"Francine's Cleats of Strength/Little Miss Meanie[54]"
Matt Hoverman


Raye Lankford

Gerry Capelle


Rick Marshall

June 3, 2015[54]
224
9
"Mr. Ratburn's Secret Identity/Besties[55]"
Matt Hoverman


Peter K. Hirsch

Allan Jeffery


Gerry Capelle

May 25, 2016[55]
225
10
"The Last Day[56]"
Peter K. Hirsch
Jeremy O'Neill & Rick Marshall
May 23, 2016[56]
Season 20 (2016–17)
Main article: Arthur (season 20)
No.


overall

No. in


season

Title
Written by
Storyboard by
Original air date
226
1
"Buster's Second Chance/Arthur and the Whole Truth"
Ken Scarborough


Peter K. Hirsch

Cilbur Rocha


Jeremy O'Neill

October 10, 2016
227
2
"Fern's Flights of Fancy/Cereal"
Peter K. Hirsch


John Yearly

Cilbur Rocha


Gerry Capelle

October 11, 2016
228
3
"He Said, He Said/Bunny Trouble"
Cheri Magid


Kathy Waugh

Sylvain Lavoie


Jeremy O'Neill

October 12, 2016
229
4
"Bud's Knotty Problem/That's My Grandma!"
Raye Lankford


Cliff Ruby & Elana Lesser

Cilbur Rocha


Gerry Capelle

October 13, 2016
230
5
"Lend Me Your Ear/The Butler Did It[57]"
Raye Lankford & Peter K. Hirsch


Peter K. Hirsch

Allan Jeffery


Gerry Capelle

May 30, 2017
231
6
"Prunella's Tent Of Portent/Mutiny On The Pitch[58]"
Jessica Carleton


Cliff Ruby & Elana Lesser

Jeremy O'Neill


Cilbur Rocha

May 31, 2017
232
7
"The Hallway Minotaur/Ladonna's Like List[59]"
Matt Hoverman


Jessica Carleton

Gerry Capelle


Allan Jeffrey

June 1, 2017
Specials
No.
Title
Written by
Storyboard by
Original air date
S1
"Arthur's Perfect Christmas"
Peter K. Hirsch
Eric Bergeron, Marie Blanchard, Angus Bungay, Mario Cabrera, Gerry Capelle, Emmanuelle Gignac, Stefanie Gignac, Lyndon Ruddy, Nick Vallinakis & Robert Yap
November 23, 2000
Arthur is trying to make his Christmas perfect, but is struggling with his attempts, while Buster's mom is trying too hard to make Buster's Christmas perfect. Meanwhile, Muffy is having a huge Christmas party and Francine can't come because celebrating Hanukkah with her family is more important to her.[57]

DVD/VHS: The DVD and VHS was released on September 12, 2000

S2
"Arthur, It's Only Rock 'n' Roll"
Kathy Waugh
Gerry Capelle, Helene Cossette, Nadja Cozic, Elie Klimos, Sylvie Lafrance, Jeremy O'Neill, Zhigang Wang, Harry Rasmussen & Ivan Tankushev
September 2, 2002
After Muffy and Francine watch a Backstreet Boys music video, Francine decides to host auditions for a rock band called U Stink. She rejects Arthur, Buster, and George, who later start their own band called We Stink. Meanwhile, Muffy is daydreaming about meeting Nick Carter. Muffy eventually joins the band as manager. The Backstreet Boys made special guest appearances. Notes: This episode was later adapted into an Arthur Adventure book. It was a spoof of The Beatles' 1964 film A Hard Day's Night.[57]

DVD/VHS The DVD and VHS was released on October 1, 2002.
S3
"D.W. and the Beastly Birthday"
Peter K. Hirsch
Gerry Capelle, Bernie Denk, Olivier Migneron, Dev Ramsaran & Cilbur Rocha
May 29, 2017
In this all-new Arthur movie event, D.W.'s fifth birthday doesn't go the way she had always imagined it would and she chose to escape to the magical island of Ukubonga. Meanwhile, Arthur has skipped her birthday party to go on a school trip to the planetarium – but instead of transporting him into outer space, it transports him four years in the future!
CGI movie[edit]
No.
Title
Directed by
Written by
Original air date
Movie
"Arthur's Missing Pal"
Yvette Kaplan
Ken Scarborough
August 18, 2006 (select PBS stations)


August 19, 2006 (Treehouse TV)
August 22, 2006 (DVD release) Lionsgate Home Entertainment
July 4, 2008 (Kidtoon Films)

Pal goes missing after Arthur forgets to feed him. As a result, Arthur and his friends go on a quest to find him. This film was produced by RichCrest Animation Studios, Mainframe Entertainment and Marc Brown Studios.

DVD Release: The DVD was released on August 22, 2006 by Lionsgate Entertainment.
Community content is available under
CC-BY-SA
unless otherwise noted.