Dawn Abigail Harper is one of the Harper quadruplets and one of the protagonists in Nicky, Ricky, Dicky & Dawn. She's the one of the girls in the family, leading to circumstances such as fighting with her brothers. She was the first quad born and she's the oldest.
Dawn is portrayed by Lizzy Greene.
Character
Dawn was born four seconds before her brothers. That means she's four seconds older, four seconds wiser, and four seconds smarter… according to her at least. Full of energy and armed with charm, she's a born leader. From sports to school activities, Dawn's the quad who's out to prove she can do it all while still holding them together when things get tough! Dawn may act like the leader of the pack, but deep down, she's just one of the pack. She is a attractive, strong and a bit muscular girl.
Trivia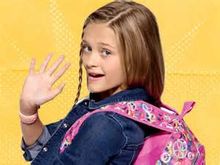 She is the oldest quad by four seconds.
She is the only girl out of the quadruplets.
She loves tacos.
She plays soccer on the school team.
She is the only quad who isn't afraid of spiders.
Her favorite basket ball player is Candace Parker
She thinks she's the leader.
Since she and Ricky both think they're the leader, Dawn fights with Ricky over which one of them is the leader.
In the episode ''Dawn Moves Out'' it is revealed that she had a crush on Smokey The Bear until she was seven years old.
She is the sister to Nicky, Ricky and Dicky.
She is the daughter to Tom and Anne Harper.
Pink is possibly her favorite color.
Her best friend is Mae Valentine.
Mack is her Crush/Close Friend.
Dawn chose the name ''Squishy Paws'' for their dog.
She tried to write Brownie Wilson's autograph in the Pilot episode, but, failed. Instead of Brownie Wilson, she wrote Brownie Squishy Paws.
She has a fear of needles
Community content is available under
CC-BY-SA
unless otherwise noted.