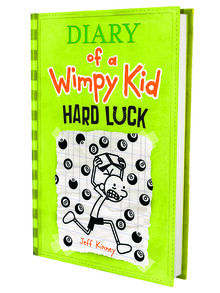 In January 1998, Diary of a Wimpy Kid officially began, when Kinney brought up an idea about a middle-school weakling named Greg Heffley, who wrote about his personal life. In May 2004, FunBrain and Kinney released an online version of Diary of a Wimpy Kid. The website made daily entries until June 2005.[4] He worked on his book for almost eight years, before showing it to a publisher in New York.
In February 2006, during the New York Comic Con, Jeff signed a multi book deal with publisher Harry N. Abrams, Inc., to turn Diary of a Wimpy Kid into a print series.[5]
The book became an instant hit, and the online version received about 20 million views as of 2009; many online readers requested a printed version. Kinney had agreed, and in April 2007, Diary of a Wimpy Kid was published.[4] To date, eleven Wimpy Kid books have been released, plus two do-it-yourself books and three movie diaries. In April 2009, TIME named Kinney one of The World's Most Influential People.[6]
List of Diary of a Wimpy Kid Books[edit]
#
Title
Date
ISBN
1
Diary of a Wimpy Kid
April 1, 2007
ISBN 978-0-8109-9313-6
The introduction to the series introduces the protagonist, Greg Heffley, his best friend Rowley, his middle school problems, Halloween, and the Cheese Touch. 
2
Rodrick Rules
February 1, 2008
ISBN 978-0-8109-9473-7
The second book in the series is about Greg's relationship with his older brother Rodrick, the Mom Bucks program, the high school party, and the talent show and the troubles faced by Greg because of Rodrick. 
3
The Last Straw
January 13, 2009
ISBN 978-0-8109-7068-7
The third book in the series is about the conflict between Greg and his crush, Holly Hills, the soccer team, Spag Union Military Academy, boy scouts, and Seth Snella's half-birthday party. 
4
Dog Days
October 12, 2009
ISBN 978-0-8109-8391-5
The fourth book in the series is about Greg's summer vacation, his mother and how she expects Greg to spend a sporty summer, and their new dog, Sweetie. 
5
The Ugly Truth
November 9, 2010
ISBN 978-0-8109-8491-2
The fifth book in the series is about Greg and Rowley's friendship, his great-grandmother Gammie, troubles of puberty, the school lock-in, and his Uncle Gary's fourth wedding. 
6
Cabin Fever
November 15, 2011
ISBN 978-1-4197-0223-5
The sixth book in the series is about Greg, Manny, the playground, accidental vandalism, Christmas, and a blizzard. 
7
The Third Wheel
November 13, 2012
ISBN 978-1-4197-0584-7
The seventh book in the series is about Greg's date with Abigail for the school dance, Uncle Gary, the restaurant, Valentine's Day, chicken pox, and his life story and the hitch about no one knowing who shall be lucky in love. 
8
Hard Luck
November 5, 2013
ISBN 978-1-4197-1132-9
The eighth book in the series is about Rowley and Abigail's relationship and Greg's and Rowley's, Fregley, the five second rule, a Magic 8-Ball, the Easter party, Meemaw's ring, the Mingo Kids, and his aunts. 
9
The Long Haul
November 4, 2014
ISBN 978-1-4197-1189-3
The ninth book in the series is about the Heffley family's extremely disastrous road trip, their new pet pig, the country fair, the motel, their continuous encounters with the Beardo family, and the family's suspicion that the Beardos have stolen their luggage and belongings. 
10
Old School
November 3, 2015
ISBN 978-1-4197-1701-7
The tenth book in the series is about Greg's grandfather staying with the Heffley family, him attending a school trip to Headscrabble Farms to avoid his father's anger after accidentally destroying his car, the town becoming electronic-free for a week, and the mythology of deranged farmer Silas Scratch. 
11
Double Down[7]
November 1, 2016
ISBN 978-1-4197-2344-5
The eleventh book in the series is about Greg's forced friendship with neighborhood boy Maddox Selsam, the Halloween party, and his horror film project Night of the Night Crawlers.[citation needed]
Supplementary books[edit]
Diary of a Wimpy Kid Do-It-Yourself Book (published between Rodrick Rules and The Last Straw) is an activity book that features a blank section encouraging readers to keep their own journal in the style of the books.
The Wimpy Kid Do-It-Yourself Book: Extended Edition (published after Wimpy Kid Movie Diary 2 and before Cabin Fever) is the same book as the first Do-It-Yourself Book, but with extra 60 pages and 16 more full-color comics.
The Wimpy Kid Movie Diary is a book about the making of the first film, which features stills and brand-new illustrations. Jeff Kinney dedicated the book to Zachary Gordon and Robert Capron, the stars of the movie.
The Wimpy Kid Movie Diary 2: Rodrick Rules is the same informative book which has the features from the first film, but it also features stills from the second film, Rodrick Rules, more new illustrations, and informs readers how the second movie was made.
The Wimpy Kid Movie Diary 3: Dog Days is the same book that covers how the first film and second film were made, but also stills from the third film, Dog Days and how this film was made.
Toys and games[edit]
Action figures included a mini figure pack (with Greg, Rowley, and Fregley), a 6-inch Greg Heffley figure, a 6-inch holiday figure based on Cabin Fever, and a Greg and Rodrick plush doll.
Audiobooks
Eleven audiobooks have been released for the Diary of a Wimpy Kid series. The first 6 are read by Ramon de Ocampo and Dan Russell from number 7. They are presented by Recorded Books and distributed by Audible.com.
Diary of a Wimpy Kid (April 1, 2007)
Diary of a Wimpy Kid: Rodrick Rules (February 1, 2008)
Diary of a Wimpy Kid: The Last Straw (January 13, 2009)
Diary of a Wimpy Kid: Dog Days (October 12, 2009)
Diary of a Wimpy Kid: The Ugly Truth (November 9, 2010)
Diary of a Wimpy Kid: Cabin Fever (November 15, 2011)
Diary of a Wimpy Kid: The Third Wheel (November 13, 2012)
Diary of a Wimpy Kid: Hard Luck (November 5, 2013)
Diary of a Wimpy Kid: The Long Haul (November 4, 2014)
Diary of a Wimpy Kid: Old School (November 3, 2015)
Diary of a Wimpy Kid: Double Down (November 1, 2016)
Characters
Greg Heffley is a wimpy student, who is best friends with Rowley Jefferson.
Rowley Jefferson is Greg's childish best friend.
Rodrick Heffley is Greg and Manny's older brother, who is rude, and the drummer in Löded Diper. He usually is noted for playing tricks on Greg.
Manny Heffley is Greg and Rodrick's spoiled younger brother, who is known to be a tattletale.
Susan Heffley is Greg's mother. She often embarrasses Greg.
Frank Heffley is Greg's father. He always wants Greg to do sports and "to become a man".
Gramma is Greg's grandmother on his mother's side.
Fregley is Greg's weird neighbor and classmate.
Chirag Gupta is one of Greg's friends whom he once played a trick on, pretending Chirag to have been invisible.
Holly Hills is Greg's crush, who once thought he was "Fregley".
Heather Hills is Holly's sister, and was Greg and Rodrick's crush.
Sweetheart otherwise known as Sweetie is the name given to the Heffleys' dog who Greg's dad buys in the 4th book. Later on, they give him to Greg's grandmother who spoils him and when he appears in later books he is said to be very overweight.
The Heffleys' Pig was won by Manny Heffley in the 9th book.
Abigail Brown is Rowley's girlfriend in 'The Third Wheel'.
Memaw is Greg's great grandmother on his father's side. (Only in the 8th book [Hard Luck]).
Gammie is Greg's grandmother on his father's side.
Vice Principal Roy owns the office that greg gets sent to WAY to often.
Community content is available under
CC-BY-SA
unless otherwise noted.