Dr. O is the Squad's resident doctor. She is played by Peyton Kennedy.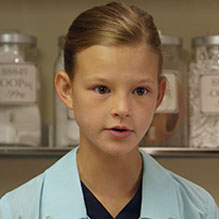 Bio
Dr. O is quite eccentric, and constantly reminds everyone that she's a doctor. She is agent number 60, and used to work in the Odd Squad Gift Shop before Oscar became a scientist and took over the space. While she claims that she has had eight years of schooling, she once admitted to Otto "If I stopped doing things that I was terrible at, I wouldn't be a doctor."
The O Games (contains spoilers) 
Dr. O was one of the five agents chosen to compete in The O Games. Her athlete's quote was "100% smart, 0% silly". She was eliminated in the third round by Odd Toddduring the Ring Toss event.
Quotes 
"What's next?!!"
"Of course I am, I'm a Doctor."
"Good job, Doctor."
"They say an apple a day keeps the doctor away, which is why I am not a fan of apples."
"If I stopped doing things I was terrible at, I wouldn't be a doctor."
Trivia 
Occasionally Dr. O says "I'm a doctor, not a ________". This is a parody of a line featured many times in the original Star Trek series. The Enterprise's doctor, Leonard "Bones" McCoy said it quite often.
She is not a fan of apples.
She is immune to the Jinx, since she's had it before.
She babysits occasionally.
She used to be a cashier for a gift shop in headquarters.
In Extreme Cakeover, she states that she doesn't have a birthday and that it's a medical condition.
In Not OK Computer, it is established that she loves red licorice.
In OddTube, Viral Video with Dr. O, she was talking about some different viruses.
In another episode of OddTube, Olympia states that Dr. O's real name is Onomatopoeia
Community content is available under
CC-BY-SA
unless otherwise noted.