Logline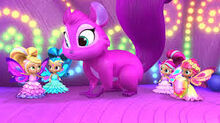 Leah and her genies travel to a magic garden in Rainbow Zahramay to see the Lumos Tree, where they meet a Flitter Genie named Minu and shrink down to her size to explore. However when Minu drops a gem that causes the Lumos Tree to glow when the moonlight shines on it, Leah and her genies must help her get it back from a female Squirrel who collects sparkly objects.
Trivia
Note: This episode introduces the fairy-like Flitter Genies.
Community content is available under
CC-BY-SA
unless otherwise noted.