The Golden Steam Engine is a character who only appears in the book Thomas and the Beanstalk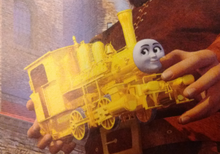 Bio
Thomas first mentioned the Golden Steam Engine whilst telling the other engines the story of Jack and the Beanstalk. When Thomas crashes and dreams he is in the story, he meets the Golden Steam Engine, who is being held prisoner by the Giant and Diesel 10. During their escape, the Golden Steam Engine gives Thomas some of her golden coal. The two engines successfully make it back to Sodor.
Basis
The Golden Steam Engine is based on a Pennsylvania Railroad class A3, built by the Pennsylvania Railroad's Altoona Shops from 1895 until 1905. The A3s were retired by the 1920s, and all were scrapped.
The Golden Steam Engine has received some slight modifications. She is a tank engine and has been given a cab of the same design as Charlie's, and she has been given buffers and screwlink couplings.
Appearances
Books
2018 - Thomas and the Beanstalk
Trivia
The Golden Steam Engine fills the role of the Golden Harp from the original Jack and the Beanstalk story.
The Golden Steam Engine's face is actually Emily's, with added eyelashes and makeup.
Community content is available under
CC-BY-SA
unless otherwise noted.