Henry is a book in the Engine Adventures series.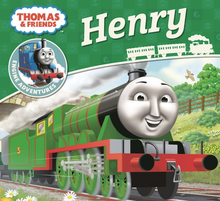 Plot
The Fat Controller is worried; Henry is spending a lot of time at the Sodor Steamworks and new parts and fresh coats of paint have done him no good. The Fat Controller tells Henry that if they cannot make him better, they will have to get another engine instead. Henry tries his hardest to pull his train that day, but it is no use. He comes to a stop and Edward has to take his carriages.
The next day, the Fat Controller is waiting at the station for Henry in his overalls. Henry's fire is lit, but the fireman is not happy. When asked what he thinks the problem is, the fireman tells the Fat Controller that Henry needs special Welsh coal. The special coal is expensive, but the Fat Controller agrees that they must do all they can to help Henry.
Henry and his crew are very excited when the new coal arrives. When Henry pulls into the station, he tells the Fat Controller that he feels fantastic. The Fat Controller warns the driver to not go too quickly. As Henry steams across Sodor, he has never felt better and arrives early at the station. Henry is delighted; with his special coal, he can work as hard as any engine.
Then, one day, Henry is given a new shape and a larger firebox. Now, he sometimes pulls the express and does not need his special coal anymore.
Characters
Henry
James
Sir Topham Hatt
Thomas (does not speak)
Edward (does not speak)
Annie and Clarabel (cameo)
Bertie (cameo)
Trivia
This story is based on the first season episode Coal. The events of The Flying Kipper are also mentioned.
Community content is available under
CC-BY-SA
unless otherwise noted.