James Sorts It Out is a book that comes with the Wooden Railwayset of the same name.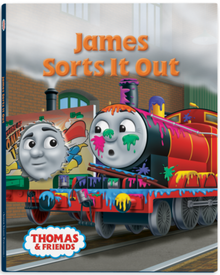 Plot
A storm has hit the Island of Sodor. Ballahoo Bridge has collapsed and a movie billboard has gone missing. James wants to pitch in and help repair the damage.
James arrives at the Wharf to pick up a load of paint. However, Colin's boom is shaky and he drops the load onto James.
James heads to the Steamworks, where Henry and Emily are also being repaired. Just then, Charlie arrives with the missing billboard stuck on his smokebox. As Kevin tries to pry the billboard off, Charlie tells Victor that Colin dropped the billboard onto him. Kevin finally manages to get the billboard off of Charlie, but accidentally launches it towards some workmen who are working on Emily. Charlie quickly runs in front of them and the billboard hits him and breaks.
When James is repaired, Victor suggests that, since Colin dropped things on both James and Charlie, he may need repairs. James picks up some oil for Colin and brings it to him. Colin is initially worried that James will be annoyed with him due to what happened earlier. To his surprise, however, James has brought him some oil to fix his boom. Colin thanks James, who is happy to help.
Characters
James
Emily
Charlie
Victor
Kevin
Colin
Henry (does not speak)
Thomas (cameo)
Edward (cameo)
Percy (cameo)
Toby (cameo)
Trivia
In the first illustration, Percy seems to be drawn as a TrackMaster toy.
Goofs
Henry is incorrectly depicted as a 2-8-0 throughout the book.
Emily's boiler is out of scale in the eleventh illustration.
Community content is available under
CC-BY-SA
unless otherwise noted.