Diary of a Wimpy Kid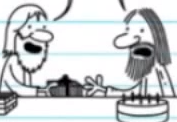 He is a character seen in Greg's mind in Diary of a Wimpy Kid: Cabin Feverwhen Greg explains why he is happy that his birthday is months away from a festival. Greg describes Jesus as ungratefully thanking his relatives who give him the gifts since it counts towards his birthday and Christmas since he was born on December 25 (according to tradition, as the actual birth date is unknown). You can also see him make a cameo in Dog Days.
Appearances
Diary of a Wimpy Kid: Cabin Fever (First and only appearance)
Community content is available under
CC-BY-SA
unless otherwise noted.