Nicky is one of the main characters of the Geronimo Stilton crossover book series, Thea Stilton.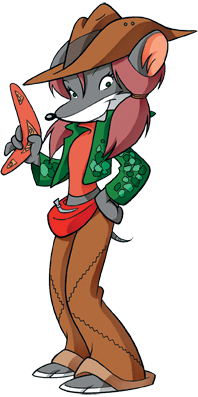 Biography
Nicky is a teenage mouse (about 15-16) from Australia who has moved to Whale Island to be taught at there school, Mouseford Academy. She met five other mouselings along the way: Colette, Pamela, Paulina, and Violet. She came with them along the journey. They also met an adult mouse named Thea Stilton. Thea was also heading for Mouseford Academy to teach there.
Later on, Nicky is the first to reach Mouseford Academy and waits for the others to arrive. She later stays up at night and meets up with Paulina and they both encounter with Thea again before they enter a room and find something covered in a blanket. Thea uncovers it, revealing a dragon's head, not knowing that somebody is in the room as well.
Soon, a mouse named Hans Ratson disappears, and Nicky, along with the others, check the cellars to see where he is. This fails and they don't find him, and they are forced to leave the cellars. Nicky and the other mouselings do some research before entering the cellars again without the approval of the others. They trigger a booby trap and fall underground.
There they find Hans Ratson hanging upside down by a rope. Thea and Octavious de Mousus, the headmaster, arrive, and Hans is revealed to be Bartholomew Sparkle, a former student at the Academy who wanted to check out the booby traps.
After the incident, Nicky and the other four mouselings name themselves the Thea Sisters and become best friends, going on various adventures and solving mysteries.
Physical Appearance
Nicky has red hair that are tied in pig tails. She often wears a hat, and when she dresses up for an occasion she usually doesn't. Nicky has grey fur. Her usual outfit is a short, blank, orange shirt and wears a green short jacket that is green and has tiny light green and dark green spots on her sleeves, and the sides of the jacket. She wears Australian, Brown pants, that have zig-zags on them. She also carries a red belt-bag. Her eyes are actually green but in the "Thea Stilton: Mouseford Academy" books and the "Thea Stilton" comics series, her eyes are dark brown.
Trivia
In the book of Thea Stilton and The Legend of Fire Flowers, Nicky has a crush on an Hawaiian surfer name Renani and he also has a crush on Nicky. They both meet after the "Group Competition: Traditional Choegraphy"
In the book of Thea Stilton and the Prince's Emerald, it was revealed that Nicky, along with Paulina, are in an organization called "The Green Mic
Community content is available under
CC-BY-SA
unless otherwise noted.