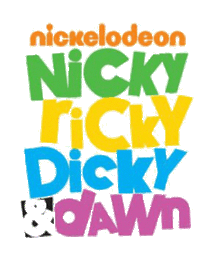 Nicky, Ricky, Dicky & Dawn is an American television sitcom which premiered on Nickelodeon on September 13, 2014.
Plot
The series focuses on 10-year-old, later 11-year-old,[1] quadruplets, Nicky, Ricky, Dicky, and Dawn Harper. They have nothing in common and often fight, but they must work together to solve everyday situations.
Characters
Tom (Brian Stepanek) is the father of the quadruplets. It is a running gag in the series that he cares more about his possessions than his children, but he loves his family and is a kid at heart.

Anne (Allison Munn) is the mother of the quadruplets who usually gets caught up in Tom's new obsessions.
Nicky (Aidan Gallagher) is the youngest of the quadruplets. He is shown to be quite comedic, quirky, and easily confused.
Ricky (Casey Simpson) is the second oldest of the quadruplets. He is the smart one of the group, always seen carrying a book or doing his homework. He is also a neat freak and a bit of a goody two-shoes, though he occasionally tries to prove to Dawn and his brothers that he can bend rules as well.
Dicky (Mace Coronel) is the easy-going quadruplet who cares a great deal about his appearance. He always takes the easy way out.
Dawn (Lizzy Greene) is the oldest of the quadruplets. Although she's always seen bothering her brothers, she does care about them deeply. There is a consistent rivalry for the leader spot of the quads between her and Ricky.
Josie (Gabrielle Elyse) is a worker at Tom's sporting shop and babysitter for Nicky, Ricky, Dicky and Dawn. (season 1)
Mae (Kyla-Drew Simmons) is the quads' friend and Dawn's best friend. She once called herself "the fifth quad".
Episodes
Main article: List of Nicky, Ricky, Dicky & Dawn episodes
Season
Episodes
Originally aired
First aired
Last aired
1
20
September 13, 2014
March 24, 2015
2
25
May 23, 2015
August 6, 2016
3
24[2]
January 7, 2017
TBA




Community content is available under
CC-BY-SA
unless otherwise noted.