Oksana is Odd Squad's cook.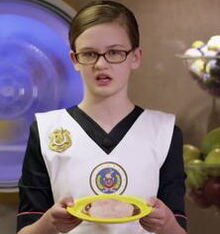 Personality 
Oksana is serious and speaks in a monotone voice. She is very straight-forward; she cuts to the chase, and doesn't beat around the bush, but is offended easily as seen in the Not So Splash episode with Agent Oren.
Trivia 
Ms. O considered partnering Oksana with Olive, as told in Switch Your Partner Round and Round.
In all her years working at Odd Squad Oksana has never dropped a plate.
In "Welcome to the Break Room, Part 2", Oksana's hair is in a bun, but in every other appearance her hair is in French braids.
Oksana is part of the Maintenance department, but her color is pink instead of yellow. She also has a different uniform style than other Maintenance agents.
She especially doesn't like Agent Oren or having kitchen assistants.
Oksana is the only person at Odd Squad who does not have a character profile.
Quotes
"Not to worry!"
"In all my years working at Odd Squad, I've never dropped a plate. I just drop the beat."
"Food is for eating."
"Always watch until the end of the credits."
"I AM PROVIDING A DISTRACTION... I am continuing providing a distraction.
Community content is available under
CC-BY-SA
unless otherwise noted.