Olaf is Agent Oren's partner. He is happy-go-lucky and jovial in nature, but tends to be very simple-minded. Occasionally he has moments of genius and is very well spoken, which surprise the other agents greatly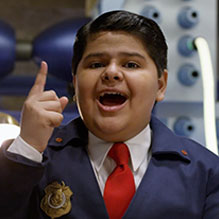 Quotes 
"I'm Olaf!"
"Potato!''
"Yay!"
"OWWOOOOOOOOOOO!"
"Boo!"
"Plink-plunk."
Trivia
Olaf shares Oren's penchant for laziness.
He frequently howls to communicate. Oren can understand and translate Olaf's howls.
He loves potatoes, and even has a song about it titled "Potato Song" on the Odd Squad Soundtrack.
He almost always appears with Oren except in the episodes Rise of the Hydraclops and Reindeer Games.
His uncle is Mr. Fonts, who works at the library. (As seen in Dawn of the Read)
In First Day, it is revealed that Olaf is actually a werewol
Community content is available under
CC-BY-SA
unless otherwise noted.