Paulina is one of the main characters of the Geronimo Stilton cross-over book series, Thea Stilton Series.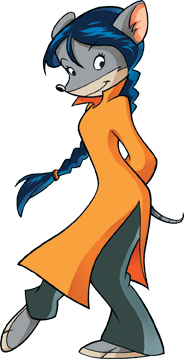 Biography
Paulina is a teenage mouse from Peru who once lived with her sister Maria, but she moved to Whale Island to be taught at there school, Mouseford Academy. She met four other mouselings along the way: Colette, Pamela,  Nicky, and Violet. She came with them along the journey. They also met an adult mouse named Thea Stilton. Thea was also heading for Mouseford Academy to teach there. She was pleased that Thea gave Guymouse a peace of her mind.
Later on, she stays up at night and meets up with Nicky and they both encounter with Thea again before they enter a room and find something covered in a blanket. Thea uncovers it, revealing a dragon's head, not knowing that somebody is in the room as well.
Soon, a mouse named Hans Ratson disappears, and Paulina, along with the others, check the cellars to see where he is. This fails and they don't find him, and they are forced to leave the cellars. Paulina and the other mouselings do some research before entering the cellars again without the approval of the others. They trigger a booby trap and fall underground.
There they find Hans Ratson hanging upside down by a rope. Thea and Octavious de Mousus, the headmaster, arrive, and Hans is revealed to be Bartholomew Sparkle, a former student at the Academy who wanted to check out the booby traps.
After the incident, Paulina and the other four mouselings name themselves the Thea Sisters and become best friends, going on various adventures and solving mysteries.
Physical Appearance
Paulina has grey fur and black eyes. Her hair is dark blue and tied in one long braid. Her main outfit is a long orange dress with dark grey pants.
Trivia
In the book of Thea Stilton and the Legend of Fire Flowers, Paulina surfboard is orange and yellow color and blue for the image of ancient birds. 
In the book of Thea Stilton and the Ice Treasure, Paulina and Nicky had developed a crush on Ashvin, creating a rivaly between Paulina and Nicky.
In the book of Thea Stilton and the Prince's Emerald, it was revealed that Paulina, along with Nicky, are in an organization called "The Green Mice".
Community content is available under
CC-BY-SA
unless otherwise noted.