Flash Bang Wallop! What a picture! What a photograph! Have you ever seen such colour and detail on an engine? Rajiv might be a small tank engine, but he's bursting with colour and with a crown placed atop his funnel, he glides like an emperor. Quite a spectacle! No wonder the crowd is going wild! All hail the Emperor of India, Rajiv!"
―The Announcer, Meet the Contenders
Rajiv is an Indian engine who was a contestant in The Great Railway Show. He competed in and won the Best Decorated Engine Parade.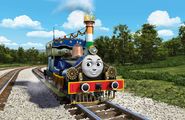 Bio
Rajiv was invited to participate in the Great Railway Show and was shipped to the Mainland with the other engines on a ferry. He participated in the Best Decorated Engine Parade, competing against Carlos, Yong Bao, James and Emily. Rajiv was declared the winner of the event, much to James' disappointment.
After the Great Railway Show ended, Rajiv left the Mainland and returned to India.
Basis
Rajiv is based off of the Fairy Queen, a 2-2-2 tank engine built in Leeds, England which currently works for the East Indian Railway Company. It is the oldest operating steam locomotive in regular service in the world. Built in 1855, it was originally used to haul post trains in West Bengal and was used on troop trains during the Indian Uprising of 1857. It was retired in 1909 after working in construction in Bihar and placed on display in Howrah. The Indian government gave the locomotive heritage status in 1972 and it was placed on display at the National Rail Museum in New Delhi until it was restored in 1997 for service working a luxury train between New Delhi and Alwar, Rajahstan.
Whereas the original Fairy Queen is broad gauge, Rajiv was scaled down to standard gauge.
Livery
Rajiv is painted navy blue with yellow lining, a black boiler, white wheels and golden details. His funnel is painted in the colours of the Indian flag.
Appearances
Voice Actors
Trivia
He has been slightly modified from his basis.
Community content is available under
CC-BY-SA
unless otherwise noted.