The twentieth season of the television series began airing on September 5th, 2016 in the UK and October 21st, 2016 in the US.
Episodes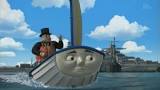 Screenshot
UK title (top)


US title (bottom)

Original UK release date

Episode number #
"Sidney Sings"
5th September 2016
#01
One day, Percy has an accident and the Fat Controller assigns Sidney to deliver a new set of wheels from the docks. Thomas comes up with a song to remind Sidney of his job, but Sidney gets distracted and he ends up going to numerous other places on the island.
"Toby's New Friend"
6th September 2016
#02
Philip sees Toby for the first time and is under the impression that Toby is a diesel boxcab. He tries to befriend him, but Toby finds him too overwhelming. Philip persists however, insisting they have a race to the quarry, believing that friends have to like all of the same things.
"Henry Gets the Express"
7th September 2016
#03
When Gordon is late pulling the express Henry is given the job instead and Gordon has to take goods for the rest of the day, causing much annoyance and turmoil for him.
"Diesel and the Ducklings"
8th September 2016
#04
Diesel struggles to maintain his rough demeanour after he finds some ducklings. Thomas comes across this and blackmails him to behave by threatening to tell 'Arry and Bert about Diesel's ducklings. Diesel tries to be kind, but he becomes split between being threatened by Thomas and looking tough in front of 'Arry and Bert.
"Bradford the Brake Van"
9th September 2016
#05
The Troublesome Trucks are causing lots of trouble for poor Thomas. Samson's new brake van Bradford arrives from the Mainland and offers to keep them in order. He does so with skill and all of the engines want to travel with him. Things take a turn for the worse though as Bradford constantly urges the engines to strictly follow the rules, causing delays with their trains.
"Saving Time"
21st November 2016
#06
Samson boasts to the other engines that he has been given a unique and important job by going to the Blue Mountain Quarry, only for Thomas to prove him wrong as he has been given the same task. Determined to prove himself special, Samson tries to save time by taking as many trucks as he can to the docks.
"Ryan and Daisy"
22nd November 2016
#07
The Fat Controller gives Ryan and Daisy new jobs, but Daisy does not feel like taking on the extra work. To get out of it, she manipulates Ryan into taking care of her new responsibilities. Ryan agrees, but has so many jobs at once that it results in confusion and delay.
"Pouty James"
23rd November 2016
#08
James is showing off too much, so the Fat Controller takes away his coaches, telling him to change his attitude. The others only think he is being sulky. James is shut up in the shed until he promises to behave, though he is being so grumpy about pulling goods trains that he still causes trouble.
"Blown Away"
24th November 2016
#09
When a storm arrives on the Little Western, Skiff tries to warn everyone about the storm. Whilst Captain Joe goes off to check on the pirate ship, Skiff's anchor breaks away and the sailboat is sent running down the branch line until he hits a fallen branch. Meanwhile, Duck and Oliver are tasked with bringing all the passengers home safely and Skiff realises it is up to him to save them and the passengers from certain disaster.
"The Way She Does It"
25th November 2016
#10
The Fat Controller asks Daisy to take special passengers, making her so excited she boasts to other engines about it. Her stubbornness to impress them gets in the way and she does not allow any of her other passengers into her, only to find out her special passengers are puppet show managers and her other passengers were going to it.
"Letters to Santa"
27th December 2016
#11
Percy must deliver Santa's Christmas letters to Vicarstown urgently, but a sack of letters is left behind at Dryaw. Harold tries to take them to Percy, but the little engine only thinks he is only mocking his speed. After a snow heap blocks off a tunnel, Harold takes the mail to Vicarstown instead, but ends up getting stuck on the Mainland afterwards. Percy later finds him and decides to repay Harold for his good deed.
"Love Me Tender"
28th December 2016
#12
Donald and Douglas argue with each-other as they clear snow from the tracks. The argument becomes so heated that the two pull in opposite directions, resulting in Douglas' tender breaking away and Douglas being stranded in the snow. Donald soon realises this and hurries to find his twin.
"The Railcar and the Coaches"
29th December 2016
#13
Thomas is put on quarry duty and there is little passenger traffic on the Harwick Branch Line, so Daisy takes his passengers. Daisy only belittles Annie and Clarabel as she passes by their shed. One day, she has to use them and the coaches get their own back, though their plan does not work as intended.
"The Christmas Coffeepot"
24th October 2016 (DVD)
Marion hears a voice behind a tree and assumes the tree is talking. She tries to tell everyone, but nobody believes her. Thomas becomes curious and investigates, only to rediscover Glynn the Coffeepot Engine. He and Percy are worried he will be scrapped, but it turns out he will be restored by the Earl.
"Over the Hill"
24th October 2016 (DVD)
Stephen becomes jealous of all the attention Glynn is receiving from the Earl and becomes worried he will become a stationary attraction at his new railway museum. To determine who will be the exhibit, Stephen challenges Glynn to a race.
"Henry in the Dark"
2017
Henry is accidentally given some "glow-in-the-dark" paint at the Steamworks and is confused as to why everyone he comes across runs away from him. It is shown that his paint is glowing and laughs at the misunderstanding. When the others tease him for being a scaredy engine, Henry devises a plan to get them back.
"The Missing Breakdown Train"
2017
Judy and Jerome are upset that they are never taken out any more as Rocky is now the official crane of the island. Ryan, who feels sorry for them, takes Judy and Jerome out for a change of scenery. He takes them to Arlesburgh Harbour which they find boring after a while, leading to Duck and Oliver taking them around the island. Eventually, Daisy has an accident and Ryan has to find them.
"Three Steam Engines Gruff"
2017
One night, Percy is frightened by a strange sound from under the bridge at the Watermill. Toby is worried, though Thomas does not believe it to be true, until he too hears the sound. Toby and Percy believe it is a troll telling the story of how three goats had to cross a bridge with a troll under it. All three engines become terrified of passing the bridge until it is revealed the sound was only coming from a cow stuck under the bridge.
"Engine of the Future"
2017
When a rail Zeppelin called Hugo comes to Sodor, everyone at first is very impressed. However, Stephen is concerned they will be replaced by engines like Hugo, making the engines worry about their future. They take their anxiety out on Hugo, making him feel unwelcome.
"Hugo and the Airship"
2017
After word of an airship resembling Hugo spreads, Hugo feels he should be able to fly just like it. He gets some encouragement from Skiff and tries to take off into the sky like an airship on Gordon's Hill, like his non-rail aerial counterpart.
"Skiff and the Mermaid"
2017
Skiff hears word of a mermaid statue arriving at a museum at Arlesburgh Harbour, believing it is real. Later on when the Fat Controller and his grandchildren want to have a ride in Skiff, he mistakes a whale's tail in the water for a mermaid and ends up dragging the Fat Controller on him to the sea in search of it. The Fat Controller does not know how to drive him, resulting in the two of them getting stuck on an island at Bluff's Cove.
"Mucking About"
2017
Thomas enjoys the competition of Max and Monty but begins to question his friendship as Max and Monty mess about while working, affecting Thomas' work. Edward advises Thomas to ignore them. His suspicions prove correct as Max and Monty dump their waste on the rails, causing Thomas to derail.
"Buckled Tracks and Bumpy Trucks"


"Buckled Tracks and Bumpy Cars"

2017
One sunny day, the tracks buckle and bend and Dowager Hatt gives the Fat Controller a new hat, which everyone calls a safari hat. The Fat Controller gets sick of everyone teasing him and tries to find a way to get rid of it. Meanwhile, a piece of rubbish from Whiff's trucks falls out and lands on the ground causing a fire. Belle derails due to the buckled rails, meaning a solution has to be found.
"Cautious Connor"
2017
Connor boasts of being a fast engine, but one day, he breaks down on the Mainland and goes to the Steamworks to be repaired. Connor starts to get worried it will happen again if he goes too fast and after that, Connor starts to become the slowest engine on the island. They even start to worry that Connor would never go fast again.
"All in Vain"
2017
James is asked to take the Mayor and the Fat Controller to a party at Callan Castle, but has to do other jobs first and every job he does, he gets dirtier and dirtier. He finally has the chance for a washdown, but James is horrified to find a scratch in his paintwork. He goes to the Steamworks for the scratch to be painted, but leaves before the paint dries and is mortified to find leaves, twigs and dust stuck to his paintwork.
"Tit for Tat"
2017
Based on the story of the same name from Small Railway Engines.

Some visitors come to the island to take photos of engines. They visit the Arlesdale Railway and take pictures of the small engines, but Bert is cross that they will not take pictures of him. As they are driving, they spray Bert with mud and Bert wants to take revenge on them. He devises a plan by giving one of them a soaking ride.

"Mike's Whistle"
2017
Based on the story of the same name from Small Railway Engines.

Duck's driver boils an egg in his whistle, which is now clogged and makes a funny noise. The engines tease Duck about his whistle, especially Mike who says engines without whistles are improper engines. Later, he pulls passengers on the line and encounters a cow. He blows his whistle so hard that it flies far away into a field. Mike insists they look for his lost whistle, but the passengers decide to whistle for him instead.

"Useful Railway"
2017
Based on the story of the same name from Small Railway Engines.

Mike is annoyed of always being stuck behind animals, Rex boasts to the small engines about how easy wool deliveries are. The Small Controller gives him the first wool train. Willie the tractor driver accidentally drops his load of wool onto the tracks, which causes Rex to derail.
Community content is available under
CC-BY-SA
unless otherwise noted.