Shane is an Australian tender engine who participated in The Great Railway Show. He competed in the strength competition.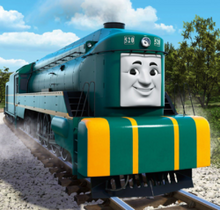 Bio
Shane was invited to participate in the Great Railway Show, and was shipped to the Mainland with the other engines by ferry. He took part in the strength competition, and competed against Henry, Frieda, Hiro and Vinnie. The winner of the competition was left unknown.
After the Great Railway Show ended, Shane left the Mainland and returned to Australia.
Persona
Shane is a big, strong engine who has been working tirelessly to ensure he's in the best shape. Known as the "Whispering Giant", Shane's carefree ways make him many friends.
Basis
Shane is based on the South Australian Railways 520 class. The real engine carrying his number, Sir Malcolm Barclay-Harvey, is currently preserved by the SteamRanger Preservation Society at their workshops in Mount Barker, South Australia and is undergoing restoration to operational condition. Another, 523, is preserved at the National Railway Museum in Port Adelaide, South Australia. Shane is modified to run on British railways, having a screwlink coupling and buffers on the back of his tender and being scaled down from broad gauge to standard gauge.
Livery
Shane is painted teal green with yellow lining, Australia's sporting colours. The number "520" is painted in white above his face and on his cab sides in yellow, and the letters "S.A.R" are painted on his tender sides in yellow.
Appearances
Television Series
Other Media
Thomas the Tank Engine & Friends
Specials
2016 - The Great Race (cameo)
Music Videos
Set Friendship in Motion and James the Really Splendid Engine (CGI version)
Learning Segments
Guess Who? Puzzles (does not speak)
Community content is available under
CC-BY-SA
unless otherwise noted.