Stepney, later retitled Stepney the Bluebell Engine, is the twentieth book in the My Thomas Story Library series.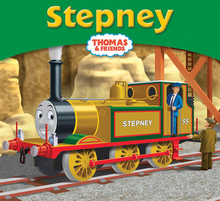 Plot
Stepney is sent to work at the quarry. That night, he is asked to take a night special to a building yard. Whilst returning home, Stepney gets lost. His driver and fireman look for help but while they are gone, two diesels arrive with the intentions of scrapping Stepney. Can someone else save him in time?
Characters
Toby
Stepney
Mavis
Sir Topham Hatt
'Arry and Bert (not named)
Rusty (does not speak)
Trivia
This book is based on the fifth season episode, Stepney Gets Lost.
Goofs
Rusty appears to be on standard-gauge tracks.
'Arry and Bert have red bufferbeams.
In one illustration, 'Arry and Bert are missing their windows.
In the second illustration, Mavis is missing a black hazard stripe.
In the fourth illustration, Mavis is missing her eyebrows.
'Arry and Bert are missing their headlamps
Community content is available under
CC-BY-SA
unless otherwise noted.