Tales from the Rails is a UK DVD featuring two nineteenth season episodes and six twentieth season episodes.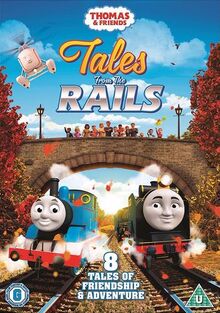 Description
Help is on hand on the Island of Sodor!
When his good friend Hiro is derailed, Thomas rushes off to find him some spare parts. Alone in the woods, the old rails give way leaving Thomas stuck in the mud with no one to hear his peeps. Meanwhile, Henry is delighted to be given the Express to pull, "Rough & Tough" Diesel strikes up a fluffy friendship and new brake van Bradford arrives on Sodor, bringing with him a set of strict rules and regulations! Join the engines in 8 tales of friendship and adventure, featuring escaping sheep and some very Troublesome Trucks!
Episodes
Helping Hiro
Henry Gets the Express
Toby's New Friend
Sidney Sings
Diesel and the Ducklings
Bradford the Brake Van
Saving Time
Very Important Sheep
Bonus Features
All You Need Are Friends - Sing-Along Music Video
Calling All Engines! - Duncan and Connor
The Earl's Quiz - Marion and the Pipe, Signals Crossed and The Smelly Kipper
Landmarks of Sodor - Ulfstead Castle
The Fat Controller's Tales - Stephen
Guess Who? puzzles
Goofs
The clip from The Smelly Kipper used in The Earl's Quiz segment is from the US dub.
On the back cover, Thomas' roof is coloured blue instead of black.
Community content is available under
CC-BY-SA
unless otherwise noted.