Tales on the Rails is a US DVD featuring two episodes from the eighteenth season and three episodes from the nineteenth season.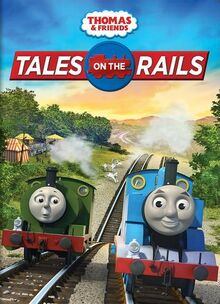 Description
Thomas and his friends are telling tales on the rails! Percy's sheep escape and Den and Dart fear working apart. James can't handle the slip coaches, while Salty's imagination has him running scared. When Percy loses control, he bravely faces his fears with a little help from his friends. Track down exciting stories with Thomas and his friends!
Episodes
Very Important Sheep
Salty All At Sea
Den and Dart
Duck and the Slip Coaches
Missing Gator
Bonus Features
All You Need Music Video
Fun with Mr. Perkins - Mr. Perkins' Storytime: Thomas' Trainand Mr. Perkins' Postcard: Brendam Docks
Calling All Engines - Thomas, Gordon, Stafford and Spencer
The Fat Controller's/Sir Topham Hatt's Tales - Millie
The Earl's Quiz - Scruff's Makeover and Luke's New Friend
Trivia
The DVD is slowed down to 23.98fps as opposed to being converted to 29.97/59.94fps for NTSC broadcast. Audio pitch preservation was also apparently applied, causing distortion in the audio.
This is the last US DVD release to feature Mr. Perkins segments.
Goofs
Don Spencer is credited as director for Duck and the Slip Coaches, but David Stoten directed that episode; the reverse also happens with Missing Gator. Also, Brian Lynch is not credited for producing Missing Gator for Arc Productions.
The Mr. Perkins and The Earl's Quiz segments are from the UK dub, causing people to hear Sir Topham Hatt being addressed as "The Fat Controller".
The first Calling All Engines! segment features Sir Topham Hatt with his old US voice; all of the further segments feature his current voice.
Steve D'Angelo and Terry Tompkins are credited for rearranging the theme song, but the new version of the theme song is not featured on the US DVD (the Season 13-18 intro is used).
Community content is available under
CC-BY-SA
unless otherwise noted.