Team Up With Thomas is a UK DVD release featuring eight twentieth season episodes.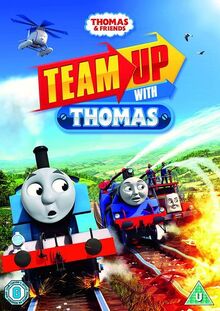 Description
It's the hottest day of the year on Sodor and the blistering heat is causing the tracks to buckle and bend. Flynn and Belle Team Up to put out a fire caused by a glass bottle and Thomas has an idea to stop the tracks buckling. Meanwhile, James' passengers prove that no one likes a show off, strong-willed Daisy becomes star of the show and Connor slows right down. Danger blows in for Skiff during a terrible storm, the Miniature Engines get their chance to prove how "woolly" useful they are and, at the building site, there's much mucking about with Max and Monty!
Episodes
Buckled Tracks and Bumpy Trucks
Mucking About
Blown Away
Ryan and Daisy
Pouty James
The Way She Does It
Useful Railway
Mike's Whistle
Bonus Features
James the Really Splendid Engine - Sing-Along Music Video
Accidents Will Happen - Sing-Along Music Video
Learn with Thomas - Teamwork and Don't Take Credit for Others Ideas
The Earl's Quiz - Number and Crab
Landmarks of Sodor - Coastline
Trivia
This is the first DVD to feature CGI versions of the Classic Series songs that are not part of Thomas' YouTube World Tour.
James the Really Splendid Engine is titled "James' Song."
Accidents Will Happen is titled, "Accidents Happen."
Goofs
The DVD description refers to Cautious Connor, but that episode is not included on the DVD.
In the Learn with Thomas segment, Don't Take Credit for Others Ideas, Thomas' American (US)/Canadian (CAN) voice actor, Joseph May is used instead of his British voice actor, John Hasler.
On this release, Extraordinary Engines is advertised as coming soon, despite it being released about four months previously.
Community content is available under
CC-BY-SA
unless otherwise noted.