Description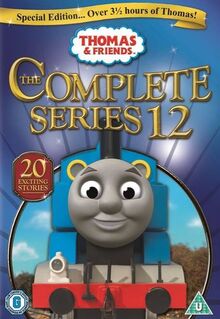 UK/AUS
See Thomas and his friends return in Series 12 with all new animated effects. Now for the first time ever all 20 episodes of these thrilling railway adventures are available on one DVD!
Join Thomas and his friends for carnivals, surprise parties, heroes and hot air balloons. Thomas learns that no special job is more important than friendship and there are 'Peeps' and whistles a plenty!
Episodes
Thomas and the Billboard
Steady Eddie
Rosie's Funfair Special
Mountain Marvel
Henry Gets it Wrong
Heave Ho Thomas
Toby's Special Surprise
Excellent Emily
The Party Surprise
Saved You!
Duncan and the Hot Air Balloon
James Works it Out
Tram Trouble
Don't Go Back
Gordon Takes a Shortcut
The Man in the Hills
Thomas Puts the Brakes On
Percy and the Bandstand
Push Me, Pull You
Best Friends
Community content is available under
CC-BY-SA
unless otherwise noted.