Description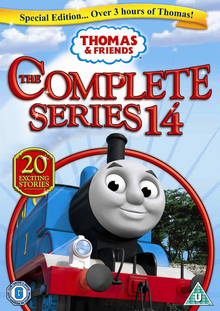 Thomas and his friends return with all 20 episodes of Series 14, together on one DVD for the first time ever!
As well as adventures on Sodor, Thomas and his friends travel to Misty Island - a wild and wonderful place with secret hide outs, rickety tracks and the Shake Shake Bridge. On his mission to be Really Useful, Thomas delivers a giraffe to the Animal Park, helps the children find a hat for their snowman and helps Victor cope with his busy schedule at the Sodor Steamworks.
Introducing new friends Bash, Dash, Ferdinand and Scruff!
Episodes
Thomas' Tall Friend
Henry's Magic Box
James in the Dark
Pingy Pongy Pick Up
Charlie and Eddie
Toby and the Whistling Woods
Henry's Health and Safety
Diesel's Special Delivery
Pop Goes Thomas
Victor Says Yes
Thomas in Charge
Being Percy
Merry Winter Wish
Thomas and the Snowman Party
Thomas' Crazy Day
Jumping Jobi Wood!
Thomas and Scruff
O the Indignity
Jitters and Japes
Merry Misty Island
Community content is available under
CC-BY-SA
unless otherwise noted.