The Complete Series 18 is a two-disc UK DVD set containing all twenty-six episodes from the eighteenth season. A bonus disc of Dinos and Discoveries is included for the last six episodes of Season 18. It was released for digital download in France under the name, Series 18.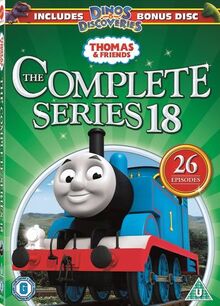 Description
Thomas and his friends return in the Complete Series 18, with all episodes together on DVD for the first time! Thomas and Duncanhandle some very grumpy passengers, while Salty's spooky story has the engines running scared. Bill and Ben are up to mischief once again, Annie and Clarabel encounter high-speed adventures and Spencer is delighted to pick up a very important passenger from the mainland! Then it's a race against time when the engines work together to clear the snow from the tracks in time for Christmas. Join Thomas and his friends with more fun adventures!
Introducing new friends Gator, Timothy, Marion, Reg and Samson
Episodes
Disc 1
Old Reliable Edward
Not So Slow Coaches
Flatbeds of Fear
Disappearing Diesels
Signals Crossed
Toad's Adventure
Duck in the Water
Duck and the Slip Coaches
Thomas the Quarry Engine
Thomas and the Emergency Cable
Duncan the Humbug
Duncan and the Grumpy Passenger
Last Train for Christmas
The Perfect Gift
Marion and the Pipe
Missing Gator
No Steam Without Coal
Spencer's VIP
Long Lost Friend
Toad's Bright Idea
Disc 2
Marion and the Dinosaurs
Millie and the Volcano
Timothy and the Rainbow Truck
Samson at Your Service
Emily Saves the World
Samson Sent for Scrap
Community content is available under
CC-BY-SA
unless otherwise noted.