"Thomas is a tank engine who lives at a Big Station on the Island of Sodor. He's a cheeky little engine, with six small wheels, a short, stumpy funnel, a short, stumpy boiler and a short, stumpy dome."
―The Narrator describing Thomas[src]
Thomas is a tank engine who works on the North Western Railway. He originally worked as the station pilot at the Big Station, but longed to leave his yard to go out and see the world. After helping to rescue James from a nasty accident, Thomas was rewarded with two new coaches, Annie and Clarabel, and was given the responsibility of running the Ffarquhar Branch Line, where he continues to work to this day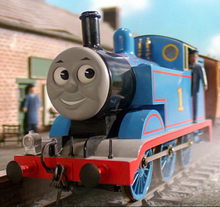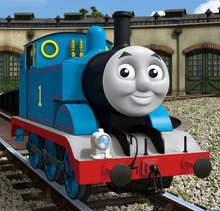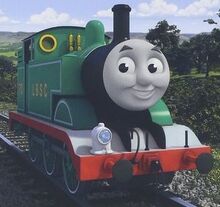 Biography
According to The Adventure Begins, Thomas worked in Brighton on the Mainland and he was painted teal and numbered 70. Some time after James arrived, Thomas was brought to Sodor to shunt coaches for the Main Line engines, such as Henry and Gordon. The first engine he befriended on Sodor was Edward. He liked to play tricks on Gordon, the biggest and proudest engine on the railway. He was taught a lesson when Gordon tricked him into being coupled to his train during his express run. Tired out, he vowed never to tease Gordon again, realising he did not have to do so to be important. Soon, he desired to pull his own passenger train too, much to the bemusement of the other engines. He got his chance when Henry became ill and no one could pull the passenger train. However, Thomas was so excited that he accidentally left his train and his passengers behind, believing he was pulling it easily. He soon realised his mistake and returned to pull the train. The engines laughed at him and soon Thomas wanted to get out of the shunting yards and see the world. Edward offered him a chance to pull trucks and Thomas excitedly took the job, not realising how troublesome trucks could be. The trucks pushed him down Gordon's Hill into a siding, where the Fat Controller told him to practice so that one day he would become as good as Edward. Thomas soon proved himself to the other engines when he rescued James after a crash. James was pulling a train of trucks who were pushing him too fast and when he tried to stop his brake blocks caught fire. Thomas chased after him and tried to couple to the back of the train to slow James down, but he failed and James and his trucks derailed. After fetching Jerome and Judy, who lifted him back onto the tracks, he was given James' coaches, Annie and Clarabel and his own branch line, which had previously been run by Glynn the "coffee pot" engine.
Behind the scenes
Thomas is a rather cheeky, but kind engine, and generally behaves well, except when he is getting into mishap from getting over-eager. He loves teasing the others, especially the bigger engines, such as Gordon and on occasion, brags about his superiority, but is always brought down to earth in due course by anyone who gives him the moral to learn, especially the Fat Controller, and his two coaches, Annie and Clarabel. If Thomas has one major character flaw, it is that he is forgetful and slightly impatient. However, he is also optimistic and idealistic.
One of Thomas' favorite things to do is to race. He enjoys racing many of his friends, especially Bertie and James. His passengers and coaches, however, don't find it as fun as he does, but his short attention span makes it hard for him to notice.
Although their friendship has been turbulent at times, Percy is generally portrayed as Thomas' best friend, especially in the television series.
Community content is available under
CC-BY-SA
unless otherwise noted.