Tiger Moth is a red and yellow biplane, who is described to be reckless and daring. In the magazines, Tiger Moth has a face.
Biography
Thomas & Friends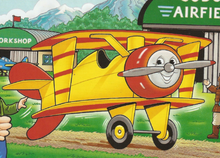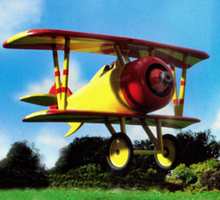 Tiger Moth was rude and had a tendency to fly dangerously low on the ground. He once did a dangerous trick above the Fat Controllerand his family while they were on holiday. However, he got his comeuppance a few days later when he crashed into a haystack. Harold brought the Fat Controller to the sight when they were searching for him after he was reported missing, and the Fat Controller had a stern talk with his pilot, informing him that he and his plane will be grounded when he speaks to his controller about what happened.
When Tiger Moth was ungrounded, he would later help promote "Harry Topper's Fair" at Tidmouth Bay by carrying a large banner behind him.
Personality
He flies high and low, doing dangerous tricks to show off, and is very rude indeed. He learnt his lesson after crashing into a haystack.
Technical Details
Basis
Tiger Moth is loosely based on, and named after, a de Havilland Tiger Moth with a radial engine and tail resembling that of a Sopwith Camel. According to an interview with Robert Gauld-Galliers by SiF, Tiger Moth is actually a Nieuport 17 Bi-Plane. The Biplane shares the same basis.
Community content is available under
CC-BY-SA
unless otherwise noted.